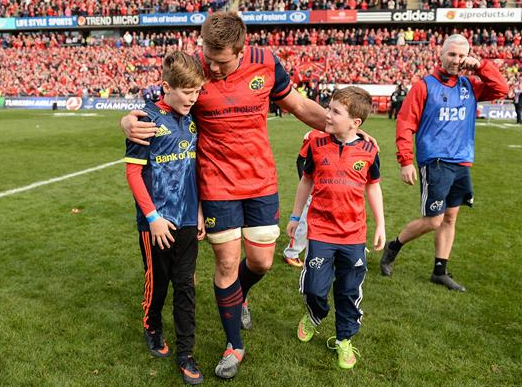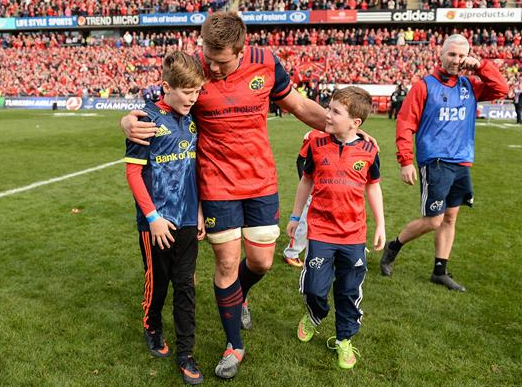 THE ELEVEN year old son of Munster rugby icon Anthony Foley, who died the weekend before last in Paris, has launched a Facebook appeal in his father's memory.
Just two days after attending Munster's emotionally charged victory over Glasgow, the eldest son of the Munster head coach today launched a campaign to encourage people to go to Mass and pray for deceased family and friends and his Dad if they so wish over the next 8 Sundays, leading up to Christmas itself.
The Facebook site –
Axel Foley Memorial
– was launched shortly after midday today and is already getting huge traction.
In the campaign – #8masses4no8 – young Tony is asking people to go to Mass for the next eight Sundays, poignantly starting this coming Sunday – his father's birthday.
The page explained that Tony and his family have been overwhelmed by the support
they have received since his dad Anthony 'Axel' Foley passed away.
"Tony has been busy thinking of a tribute to his Dad and has asked that this page be set up in his memory. He wants to use it to ask people, who want to show their support, to attend Mass on each of the next 8 Sundays to pray for people who have died and while there to offer a prayer for his Dad also."
It goes on:  "The Number 8 is, of course, a special number for Tony and his family but the 8 Sundays also bring us up to that special family time of year, Christmas.
"So, Tony has asked if you would, in his Dad's memory, Like and Share this page. As you do that, Tag 8 Facebook friends to go to Mass over the next 8 Sundays and, at that Mass, light a candle for a loved one or, indeed, for Anthony, take a photo of that lit candle and post it to this page using

 

#8masses4no8
"
By doing this you will be bringing additional comfort to this mighty young man and his family at this time."
The first to post on the site was Tony's mother Olive, who confirmed it was her son's idea and that he thought it up on Saturday night last, after returning from Thomond Park.
"Tony was inspired by what he had experienced in Thomond Park and came up with the idea of getting people to go to Mass to pray for deceased family or friends, including his father, in the run up to Christmas.  The eight week cycle is fitting as his father will, of course, forever be associated with the number 8.
"It's a lovely idea. Tony even created the hash-tag, edited the image for the page to include the hast-tag and launched the page today.
"It's getting a great response and he's delighted.  It's a really positive way of dealing with what has happened and the more people that support it the better.
"November is fast approaching, which is, of course, the month of the Holy Souls so it's very timely also in that regard.
"The eight Sundays will take us right up to Christmas, which is a special family time, of course, but can be very difficult for families who have lost loved ones.  The support for the campaign over the coming weeks will certainly be a positive for the family at an otherwise very difficult time."