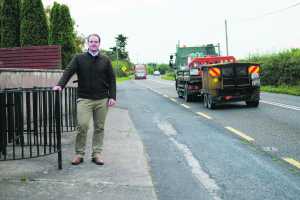 THE community of Kilcornan in County Limerick has threatened to take drastic measures to get Transport Infrastructure Ireland (TII) to engage with them over traffic calming plans.
Last month TII were accused of continuing to shun the decency and goodwill of the people of Kilcornan.
Local independent councillor Emmett O'Brien said the community was victims of their own politeness and that TII was showing no regard or no interest for the residents of the area, school children and road users.
Well, the community of Kilcornan has now decided that enough is enough and that there will be no more mister nice guy!
Speaking at this week's Adare-Rathkeale Municipal District meeting, chairperson of Kilcornan Community Council, Gillian Downes said it was now "imperative" that TII engage with them before drastic measures are taken.
"It has been suggested that restricting vehicular access to the community yard and arranging protest marches on the Kilcornan section of the N69, would significantly impact traffic flows. It has been suggested that such actions would immediately open communication and spur the TII to put in place the road safety measures they themselves acknowledged are needed," Ms Downes explained.
"It has been pointed out that such actions previously necessitated the protests of lorry drivers and traffic disruption to pressurise the then NRA to upgrade the N69 road surface between Foynes and Limerick.
So why not follow suit? Such actions would not be the preferred option, but would the actions of last resort, while undertaking continuous consultation with the various local community stakeholders."
Kilcornan Community Council want traffic route lighting installed in the vicinity of Kilcornan National School and the Ger McDonnell all-weather playing facility and Kilcornan Community Centre as well as enhanced traffic calming and safety measures.
They say they are very disappointed at the lack of progress and lack of communication made on this matter with the TII, since last meeting the council over a year ago.
"For our proposal to be seriously taken on board by the TII we would hope to have a meeting with the Council's TII representatives within the next month or we will be moving toward traffic disruption on the N69 as soon as possible," Miss Downes commented.
Local councillors were quick to show their support and offered to join the local community in protest if such action is taken.
Cllr Emmett O'Brien pointed out that Kilcornan is the only primary school on a national road that does not have any traffic calming measures.
"It is high time that the safety of the children playing around the school and the all-weather facility is recognised. We are being increasingly ignored," he declared.
by Alan Jacques