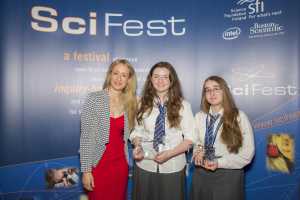 TWO students from Limerick have emerged from a field of over 8,000 to win a national award at one of Ireland's most prestigious science fairs.
Kalin Foy and Ciara Coyle, both fifth year students from Coláise Chiarain in Croom, were awarded an Excellence in STEM (science, technology, engineering and maths) award, for their project, which involved designing and manufacturing "a wireless trailer device".
This year saw a record number of over 8,000 students exhibiting their projects in local and regional science fairs across the country. Kalin and Ciara were two of the 58 students who went on to exhibit their 31 STEM projects at the national final held in the Marino Conference Centre in Dublin last Friday.
Kalin and Ciara constructed a wireless trailer light system to replace the 7-pin connector that is used to conduct signals from the car. They chose this project as many trailer lights do not work properly. The system runs for 32 hours on a fully charged battery and assists  drivers in parking by the proximity sensors.
Congratulating the students on their achievements Education Minister Richard Bruton said all the young scientists were a credit to their families and supporters. "The future of STEM in Ireland is clearly very bright," he added.