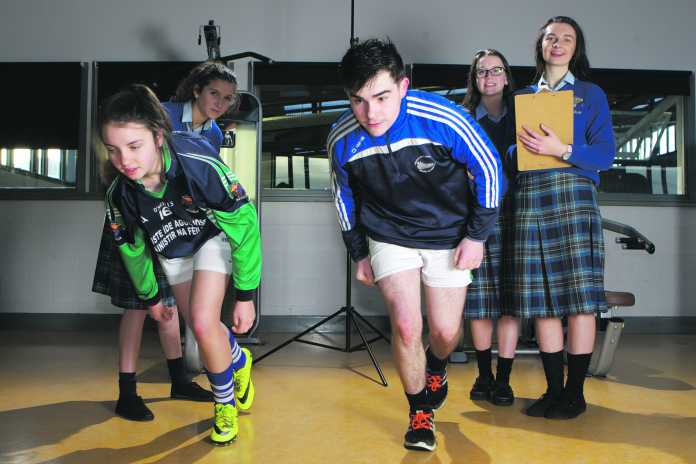 EIGHT post primary pupils from Colaiste Ide agus Iosef in Abbeyfeale are preparing to flex their muscles at the 53rd BT Young Scientist and Technology Exhibition in Dublin next week.
This is the third year that the West Limerick school has entered the competition. The three projects from Abbeyfeale have been worked on over the last few months in a collaborative effort by students with guidance from their teachers, Maria McMahon and Joanne Culhane.
There is a strong record of achievement in the sports field in Colaiste Ide agus Iosef and one of its entries 'Who is the fittest of them all?' compared students in junior and senior cycle and their respective fitness levels.
Students, Aoife Curtin, Ciara Hunt and Emily Pierse tested hundreds of students and their comprehensive findings suggested a trend where students get less fit as they progress through second level.
Muscular Strength and the effect of protein milk on this area of the body was the focus of a project by Caoimhe Ní Fhlannabhra and Sinéad Hunt. This project saw the students test students but also interview experts from third level. The conclusions drawn from their work emphasise the positive effects of protein milk.
The final project from Colaiste Ide agus Iosef follows the ever-popular area of technology. In this project the students looked into teenagers obsession with 'likes' on social media.
Leona Lyons, Rachael Horan and Cian O'Connor from the 'Am I liked?' project explained, "Before we started our project we noticed that many young people were becoming increasingly obsessed and concerned with social media networking sites. We observed as well as posting on these networks our friends would check their phones frequently for likes.
"Students would compare their 'like' numbers to others in their class as if it was a popularity competition. So much so, we noticed that people would even delete a post if it failed to reach sufficient likes in their view."
The BT Young Scientist and Technology Exhibition runs from January 11 to 14 in Dublin's RDS. More than 4,500 students from across Ireland submitted projects from which a select number of projects have been chosen for the exhibition next week.
by Alan Jacques