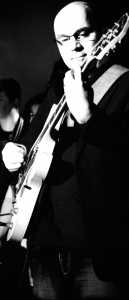 LGN stands for Limerick Guitar Night and is the brainchild of Stephen McFarlane. The secondary school music teacher, currently based in Croom, hopes to showcase guitar talent in Limerick (and surrounding areas) by giving performers "a space to play original music and play set lists with a focus on showcasing the guitar as a solo instrument."
The night dedicated to guitar happens on January 24. LGN is being run under the banner of the Limerick Jazz group. Stephen credits stalwarts of Limerick Jazz, John Daly and Joe O'Callaghan, for helping out with organising this regular event.
Stephen McFarlane studied jazz guitar in Newpark Music Centre and was one of the first people to hold a BA in Jazz Performance in these parts. He plays a diverse range of musical genres and musical groupings has toured internationally with some well know Irish groups and also tutors on the Limerick Jazz Workshop programme as well.
The launch night of LGN happened last December with guitarists Joe O'Callaghan, Alan Colfer and Rory Keane with rhythm section featuring John Daly on drums, Jim Hanley on keys and Michael Hinchy on bass.
Stephen is keen to state that this is an opportunity for the public, music fans and the city's many fine guitar players to gather to hear this instrument take centre stage.
"These musicians are all great performers but they are also composers and improvisers and I hope that the LGN will give them the space to perform this live. I want the night to be for both local performers and the general public to hear the best of Limerick musicians playing their own music or the music that has most influenced them."
The night will feature Eoghan Judge from band The Lowdown.  Eoghan's classy playing is sure to "shake the cobwebs off your mid-week fuzzy head," with funky, guitar driven tunes from covers to originals.
Also on the bill is Colm Lindsay from Wexford with his band  Little Waits. Colm's guitar playing is fresh and edgy as his group lock into a solid groove.
Limerick Guitar Night Vol. 2 happens in Dolan's Upstairs tonight Tuesday January 24.