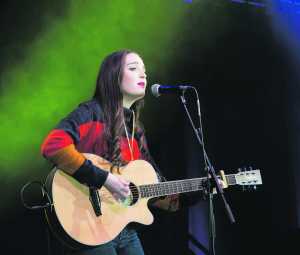 6,000 second-level students and teachers attended a special event at the University of Limerick (UL) last week promoting positive mental health and help-seeking behaviour in young people.
The campus glowed orange last Wednesday and Thursday throughout the Cycle Against Suicide Student Leaders' Congress. Held outside Dublin for the first time, the congress came to a fitting finale with addresses from Connacht Rugby head coach Pat Lam and the Ombudsman for Children, Dr Niall Muldoon.
Other highlights included talks from sociologist and Irish Travellers' rights activist Sindy Joyce alongside a special appearance by Dustin the Turkey. Minster of State for Mental Health Helen McEntee and clinical psychologist Dr Eddie Murphy, best known for his appearances on RTE's 'Operation Transformation'. 
Ombudsman for Children, Dr Niall Muldoon said it was important that we continue to raise awareness of mental health issues and empower young people who can make a real difference.
" I will use all of the statutory powers of my office to hold Government to account in the provision of services for children and young people with mental health difficulties," he said.
Cycle Against Suicide interim chief executive offer, Colm Hayes, pointed out that 2017 marked a special milestone in the evolution of the Student Leaders' Congress as a two-day event and with its biggest crowds to date.
"To think that we had 40 students attend our first Student Leader's gathering in 2013 and to have welcomed 6,000 students to this year's event shows how the dialogue on youth mental health is progressing year on year.
"The students and teachers who attended this week are the beating heart of this event. These young people represent the future leaders of our country and how they are driving the conversation around mental health in Ireland should give us all great hope," he said.
by Alan Jacques
alan@limerickpost.ie