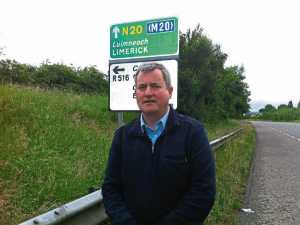 LIMERICK Fine Gael Senator Kieran O'Donnell is calling on the public to campaign for the construction of the M20 Limerick to Cork motorway during the mid term review of the Government's capital plan.
The review will commence in the coming weeks with a public consultation phase where all relevant stakeholders, departments and the public can make submissions directly to the Public Expenditure and Reform Minister Paschal Donohue on capital projects.
Earlier this week, Senator O'Donnell held discussions with Minister Donohue whose department currently has €2.6 billion available for the funding of capital projects.
The public submissions will be a key part of the Minister's and his department's assessment of various capital projects and he expects to be in a position to announce the funded projects in the second half of this year.
"I impressed upon Minister Donohue the critical need for Limerick and the region that the M20 Limerick to Cork motorway project is funded under this mid term capital plan review," Senator O'Donnell told the Limerick Post.
"I told him that having succeeded in getting the planning process restarted on the M20 last November, I wanted to see the construction of the project now being given the go-ahead by Government.
"Therefore is critical that everyone in Limerick and the entire region avails of this opportunity to make submissions to Minister Donohue to signal to him the urgent need and demand for the M20 motorway (Limerick to Cork) to be funded and built," he explained.
The Senator added that the Limerick public and representatives can work together to "make a compelling case" to the Minister and "drive home that the M20 motorway project is the single most important missing piece of road infrastructure in Ireland".
"Balanced regional development can only happen if the Western seaboard can operate on a level playing field with Dublin and the Eastern seaboard. Building the M20 motorway is key to making this happen," he concluded.