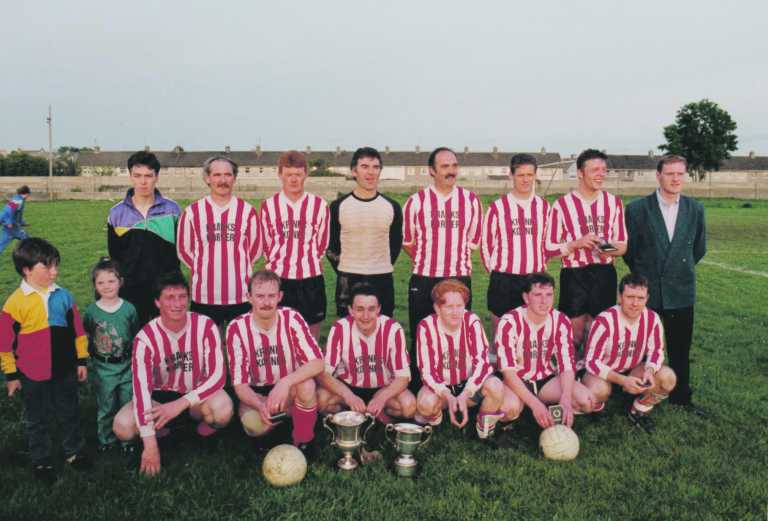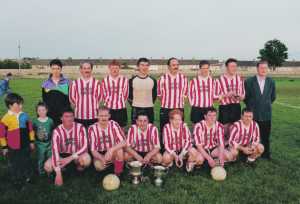 GERALDINES AFC are celebrating 80 years in football in 2017 and this Sunday, February 19, club members, new and old, will come together to mark the occasion with a special Mass at St John's Cathedral.
Named after a local public house, Geraldines were founded in 1937 by Ger Tracey, John Callaghan and Tom 'Ollie' McMahon. The three men would meet to form plans outside the City Tannery offices in Lower Gerald Griffin Street, with word quickly spreading through Tanyard Lane, St John's Square and a maze of streets in the old Irishtown where rugby and GAA were king.
The candy stripes have come a long way since their first game against St Brigid's in Pa Healy's Field where players had to borrow boots and jerseys for their famous 1-0 victory.
The club has had many great successes down the years under the shadow of St John's tower. Things progressed slowly in the formative years, but Geraldines finally lifted silverware in the 1949/50 season when winning the Cromer Cup.
In the 1953/54 season, they won the league for the first time and went on to win the double the same year. While in 1961/62 Geraldines won the Lawson Cup, the most coveted of all the local trophies.
This was topped in 1978/79 when the club lifted the Munster Junior Cup. Geraldines went on to win two more Lawson Cups in 1979/80 and 1980/81 during a golden period for the Limerick club.
"We have always been very fortunate to have the support of the people of our area and local businesses as well", Club PRO Turlough McNamara told the Limerick Post.
"This Sunday will be a very special event for the club and marks the beginning of our 80th year. We are also currently planning a big social for the end of the year," he added.
Bishop of Limerick Brendan Leahy will lead the special service for Geraldines AFC at St John's Cathedral this Sunday at 7pm.
by Alan Jacques