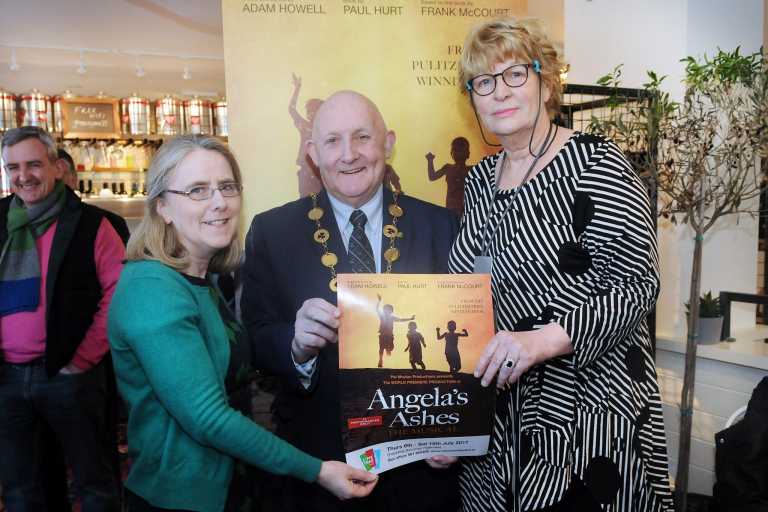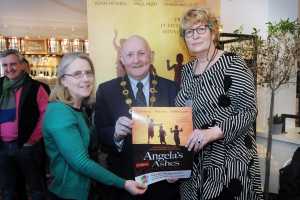 THERE was lively footfall to Green Yard Café on Tuesday morning for media launch of 'Angela's Ashes The Musical' and its world premier in Limerick on July 6, locking in for 11 performances at Lime Tree Theatre.
Heading up the venue's team, host for this major venture costing €750,000, general manager Louise Donlon welcomed Mayor Kieran O'Hanlon, show producer Pat Moylan, Myles Breen of Bottom Dog Theatre, playwright Mike Finn, Una Heaton of the Frank McCourt Museum, Jean McGlynn of Frontline Stage School, music/ theatre promotors Mike and Valerie Dolan, Maeve Butler of Dance Limerick, Pippa Little of Limerick Arts Office, publicans Robert and Fiona Byrne and a dozen more supporters.
Officiating, Mayor O'Hanlon made the point that "Angela's Ashes is a story of hope, fortitude and family. There are elements to it that make up life and these are the elements that will be reflected in the musical in July. Frank McCourt writes about the humour, strength and resilience of Limerick people and of Limerick women in particular".
Finalising, he commended www.limetreettheatre.ie on securing first sight of this new, professional production "which will be the largest commercial venture to date for the Lime Tree Theatre".
Funded by investors to lift its 40+ caravan, Bord Ghais Theatre in Dublin and Belfast's Grand Opera House take it subsequently and London's West End is end game.
Next week, read Limerick Post's interview with veteran producer Pat Moylan, behind the Gaiety Theatre's 'Driving Miss Daisy' with Breda Cashe; and 'The Field' with Michael Harding last year alone. Photos by Gareth Williams