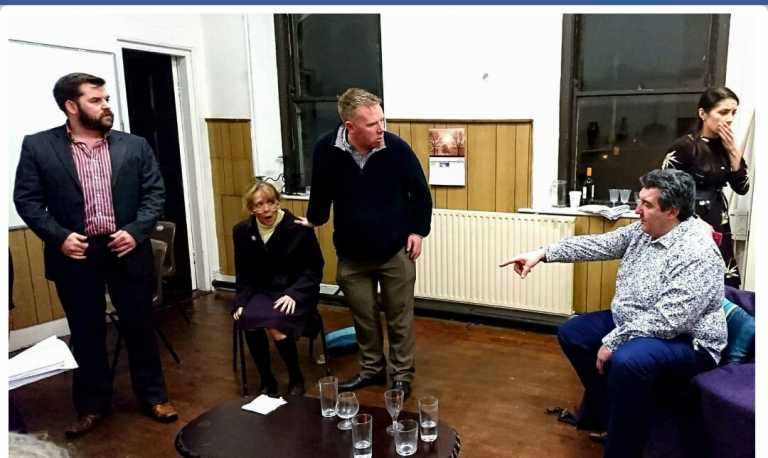 "AS USUAL with Bernard Farrell, 'Bookworms' is situational comedy and the whole situation is very funny," observes Torch Players' director, Maurice O'Sullivan.
Funny for us from the outside looking in to their production of 'Bookworms' running at Belltable nightly until Saturday March 4, 8pm. Bloody terrible for the characters in turmoil.
The realisations that spin when a book club hosted in a private home welcomes men for the first time wind this farce around the twist.
"It's looking good and casting is very strong," says O'Sullivan in interview before opening night. "We have Chris Rowley and Edel Heaney as Larry and Ann, hosting the book night and it's the first time that men are invited in. Larry is a kind of ignoramus who has never looked at a book.
"The character Robert, played by Dan Mooney, is a bank manager and his wife Jennifer (Joanne O'Brien), a secondary school teacher. They are snobbish book club types – she especially is into it".
Nothing pretty thus far. "Larry owes a lot of money to the bank manager and when Robert gets him on his own, he starts to turn the screws on him.
"Larry's wife Ann would appear to be a having a fling with Robert and … that comes out in the play and all hell breaks loose".
Strewth. There's more drama in act two when the Man in the Attic, Ann's brother Vincent (Peter Hayes) who is living secretly upstairs, comes down to put the knife in. "The best description of his character is psychopath. He's an ex priest who has been in jail in Britain for manslaughter".
Antoinette Portley is Dorothy, an exceedingly wealthy old dame who takes a grandstand in proceedings. Katie Dowling is daughter of the house, Aisling who Skypes in to this chaos  from Australia and complicates events further.
With an actor of Peter Hayes' quality stirring it, and Torch's ability with farce and ensemble playing, look forward to the shindig of the season. Book at the venue manager's website www.limetreetheatre.ie