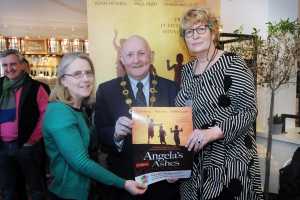 STAGED first as a student production at Lime Tree Theatre during City of Culture 2014, 'Angela's Ashes The Musical' will premier as a new professional show on July 6, 11 performances into July 15. Costing close to €750,000, 'Angela's Ashes The Musical' will require significant crew, cast and prep at Lime Tree Theatre to meet expectation.
Numbers and names crunched at the media launch at The Green Yard Café hosted by theatre manager Louise Donlon. Her team's terrier-like tenacity was complimented by producer Pat Moylan in securing this world launch for Limerick, home town of the McCourts.
Mayor Kieran O'Hanlon officiated, describing the book "as a story of hope, fortitude and family. There are elements to it that make up life and these are the elements that will be reflected in the musical in July".
"This will be a major production, a big ship to be taking around with a around 40 or more involved," promises veteran Pat Moylan. "Normally it is not possible to go to a place the size of Limerick from a 2000 seater opera house in Belfast to a venue of this size [510 seats]. We will be here 12 days in advance starting up a musical of this calibre and I am absolutely thrilled at its starting in Limerick. 'Angela's Ashes 'is something I have been working on over the last three years and it has become a love project for me".
It was Frank McCourt's widow Ellen who was influential link between Limerick and the original student production from Derbyshire, its music and lyrics composed by Adam Howell from text by Paul Hurt.
"I had contacted her about the stage rights as I was thinking of doing it as a play. It was Ellen who told me that "this musical has to be seen, it is really good, really strong".
On watching the DVD, Pat Moylan became a believer, her instincts primed through a life leading high-end shows. Last year alone she produced 'Driving Miss Daisy' with Breda Cashe and 'The Field' with Michael Harding for the Gaeity.
"The [original] script was written to give 30 students parts. I got the rights and started working with Adam and Paul," she told Arts page. "I supervised the edit down, I guide and encourage – that's what I do as producer. I am working seven days and seven nights a week". Moylan has brought in the experienced Thom Sutherland from the West End to direct the international cast.
Book July 6 to 15 on www.limetreetheatre.ie for Lime Tree's biggest commercial venture yet.