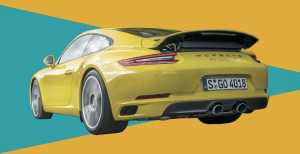 WANT to release your inner petrol head or feel like James Bond for a bit?
Limerick's more politically correct answer to Top Gear is coming to the Eastway Plaza on April 2 and, apart from handing out thrills without the spills, it will also be raising money for a great cause.
The Irish Festival of Speed is hosting the Porsche Supercar Sunday in aid of the Blue Box children's charity on April 2. Anyone willing to part with a donation of a tenner to the charity will be taken for a jaunt on the motorway to see what a sports supercar can do.
Visitors can become posh passengers in a choice of Porsche, Fearri or Mazeratti cars – a once-in-a-lifetime for fast-fans who otherwise know that the nearest they'll ever get to a sports car is buying a tree-shaped air freshner.
The fundraiser is being run by the vintage car group who get together every Sunday, with up to 1,000 people coming along on a good summer Sunday and, in the words of a longtime member, "getting together for a chat and kicking each other's tyres."
The Sunday gathering attracts vintage car owners from all over the region but on any day about half of the participants will be from Limerick.
Regulars of the vintage Sundays "have connections with the Blue Box and do they do fantastic work. We thought this would be a novel fund-raiser for them. Everyone is giving their time and the use of their cars for free," the spokesman said.
As well as getting a chance to be chauffeured in sporting style, visitors can see a wide-ranging display of vintage models (there will be some cars as well) and generally enjoy the fun festival atmosphere with a coffee or an ice-cream.
"There's no entry charge but if people want to put something in a bucket on the way in, they'll get a free coffee," the spokesman explained.
The event starts at 11.30am and goes on until 4.30pm.
The Blue Box is working with schools and families in Limerick City and environs to provide a safe space with trained creative arts therapists, who deliver a professional service.
Blue Box works with children who need support at school or home and helps guide them through difficult times.


To find out more about The Blue Box, please click here.
To find out more about The Irish Festival of Speed, click here.