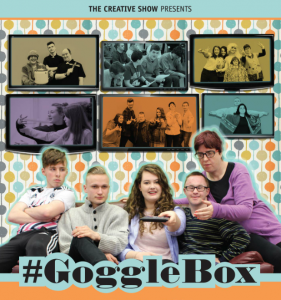 THE many stakeholders to each year's Creative Show ensure a fab dynamic for this enormous, fun, diverse gathering on stage.
Directed by Bottom Dog's Myles Breen, he also writes the narrative and chooses songs. 2017's theme of #GoggleBox is choreographed by Angie Smalis, artistic director with Limerick Youth Theatre.
#GoggleBox  tunes into Lime Tree Theatre on Monday March 27 and Tuesday 28 for 8pm. Some 130 of 170 participants overall will perform snatches from favourite TV shows such as 'Friends', 'The Late Late Show' and plenty more.
So, who is with The Creative Family annually? Limerick Youth Theatre, Daughters of Charity Limerick, Laurel Hill Coláiste and Ardscoil Rís choirs, Patterns Dance Collective, Limerick Youth Dance and Music Generation Limerick City have been in three months' work towards this.
It's the seventh year in the mix for service users from the Lisnagry based Daughters of Charity and the first for Lumen Street Theatre Company.
Angie Smalis explains the "socially innovative" mission underlining this collective undertaking for young people and adults with ability/ disability:
"It is …built on the founding elements of expression, exploration, communication and education.
"The participants work with an experienced hand of professional arts practitioners who are drawn from the fields of music, contemporary dance, theatre, street performance and design." Grab a ringside seat at www.limetreetheatre.ie