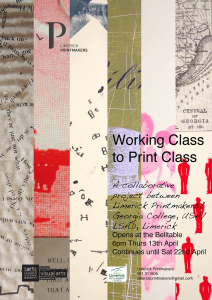 THE collective Limerick Printmakers launches a new show, 'Working Class to Print Class', at Belltable gallery on Thursday April 13, 6pm.
This is an exhibition of collaborative and thematic work created  by studio members as well printmaking students from the Limerick School of Art and Design in conjunction with their peers at Georgia College and State University, Georgia, USA.
 Prints are free to view daily into  April 11.
There were various drivers to this seemingly odd coupling between Limerick and Georgia. Consider large working class populations; former hubs for major traditional industries' parallels in the decline and rise of subsequent industry; a shared love of art and the making of art.
We are told: "Limerick participants were paired together at random with their Georgia counterpart with both parties then encouraged to utilise a range of tools to maximise mutual communication – including popular social media platforms, mobile text services and Skype – in order to discuss their own ideas, learn about each others localities and overcome the challenges associated with creating work with a partner who resided over 3,500 miles and several time zones away.
 "Stemming from these interactions, each student from Georgia College created a print that would act either as a companion piece to their Irish partners response (and vice versa) or that could be worked directly over by their Limerick partner in order to create an entirely new collaborative work shared by both printmakers."