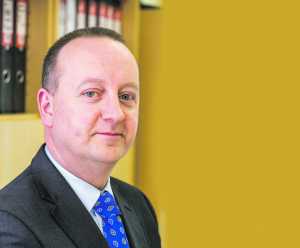 NEW figures show that rents rose by a staggering 12.6 per cent in Limerick City and 9 per cent in the county during the past 12 months.
Responding to the latest Rental Price Report from the property website Daft.ie for the first quarter of 2017, homeless and housing charity — the Peter McVerry Trust — has said it is deeply worried by the new figures.
The charity's CEO, Pat Doyle, commented, "The report paints a deeply worrying picture and shows that the current situation is unsustainable. Tenants are under huge pressure, and those who are dependent on the rental system for their housing needs are looking at rents that are now, on average, €892 in Limerick City and €698 in the county. Our concern is that rapidly rising rents will lead to more tenants becoming homeless."
Mr Doyle also pointed to the lack of properties to rent in Limerick as a cause for concern. At the start of this week there were just 114 properties to rent in the entire county of Limerick, a figure that is well below that required in the region.
"What we need to see is more affordable rental accommodation coming into the system quickly. Peter McVerry Trust and others have called for affordable rental and 'cost rental' schemes to be provided but progress has been too slow.
"The Government initially announced an Affordable Rental Pilot in October 2015 and funding of €10 million was set aside. To date, little, if any, progress has been made in the delivery of an affordable rental model. A report on a potential cost rental model, to be written by the Department of Housing as part of Rebuilding Ireland, is not due until the end of 2017 at its earliest. These schemes need to move faster in order to get affordable accommodation into the system."
Mr Doyle also called for the Government to fast-track the creation of an Affordable Housing Authority to help deliver affordable rental options.
"The creation of an Affordable Housing Authority could be fast-tracked by the large scale purchase of empty buildings. A scheme to bring empty homes and commercial buildings into residential use could deliver thousands of rental units across the whole of Ireland. This would help meet the needs of many tenants who are unable to pay the rents currently demanded by the market," he concluded.
Meanwhile, Novas, the largest provider of homeless services in the Mid-West, has urged the Government to examine the range of vacant units nationally, particularly in urban areas.
"Single homeless people are among the most marginalised in the private-rented market. With a dearth of supply of one-bed units and the high demand and cost of such properties, single homeless people find it increasingly difficult to secure accommodation and remain stuck in homeless services unnecessarily. Many vacant city-centre properties could be transformed into one-bed units, which are so desperately needed," Novas stated.
by Alan Jacques
alan@limerickpost.ie