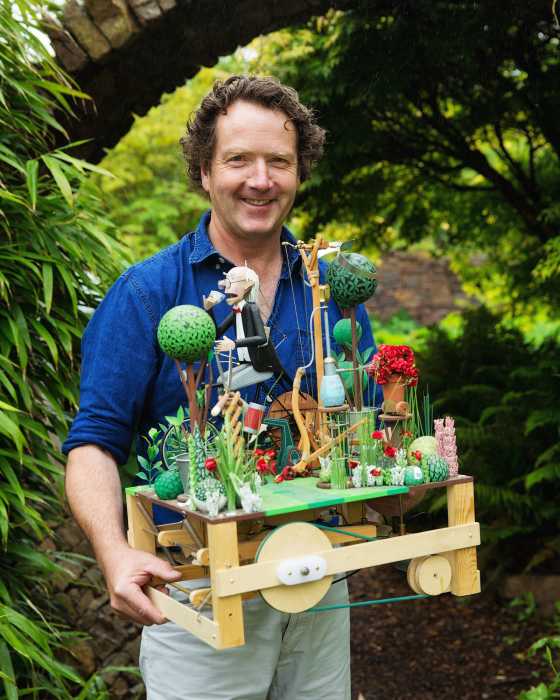 AWARD-WINNING gardener Diarmuid Gavin is putting the final touches to his 'Garden of Pure imagination' in its new location  in Dundrum Town Centre when Limerick Post caught a word with the green-fingered creative before his appearance at Lime Tree Theatre next week.
What are the plans for the show on Thursday 25, Diarmuid?
"I'll be telling the story of garden design, giving the inside story of Chelsea Flower Show, I hope it will be informative and light hearted fun. We'll look at a lot of different gardens around Ireland and talk about the people behind them.
We will talk a bit about the Hanging Gardens of Limerick and looking at the future of gardening."
Do you get some very eccentric requests from your commissions?
Generally I'm more eccentric that the clients. they usually want me to tone down the eccentricity.
My garden shed holds a jerry can of petrol and 10 litres of weedkiller – can you explain the  attraction of gardening to me?
"The magic is doing some digging and doing some planting, getting to know the soil just wandering out with a fork and a spade, digging in the ground, understanding what it is. Planting something, watering it in  and watch it develop itself – it is incredibly therapeutic and creative.
Your book The Extra Room talks about making the outdoor space work for a house but doesn't it simply rain too much here?
"We have one of the best places in the world to garden because we have a temperate climate, we don't have a lot of extremes of hot or cold or wet or dry. We should be brave enough to adapt to that – we should be inventing garden umbrellas that go up automatically like flowers.
In my own garden I've created a wide veranda with a covered area right the way around the back of the house so we can enjoy it whatever the weather."
A final question, Today FM's Dermot Whelan (who loves doing an impression of Diarmuid) is of course from Limerick. If we got you the key to Whelan's garden for the day, what would you do to get even with him for all the slaggin''?
Laughing – Oh, I'd cause some trouble! I think he sounds more like Gerry Daly! I'd do some Gerry Daly gardening and plant the whole thing with spuds!"
An Evening with Diarmuid Gavin happens at Lime Tree Theatre on Thursday May 25.