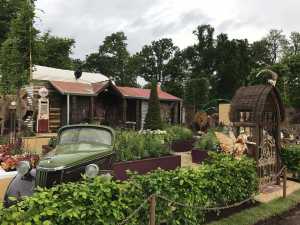 An Annacotty garden has been voted the best in Ireland at the Bord Bia Bloom Show Awards.
Designed by Des Kingston, the garden, entitled 'Rustica Hibernia', belongs to the Fitzpatrick family in Annacotty, County Limerick.
'Rustica Hibernia', or Rural Ireland, delicately blends industrial, agricultural and local historic influences in a contemporary urban setting. The grass slope is transformed into a three tier paved and gravel area with formal planting starkly contrasting the repurposed woodwork. A family photo of the Fitzpatrick family's ancestors forms a personalised backdrop to the garden, while a rotating vegetable wheel completes the old world industrial feel.
Des dedicated the garden to his late father Jack who also had a passion for re-purposing things and taught Des to never throw anything out. He said, "The garden sits right in my soul, right with me. It's exactly the way I wanted it to be – it's as true to the plan I came up with as it could have been. To have been given a silver medal for my first garden at Bloom has done wonders for my self esteem and I am immensely proud of myself, my family and friends. I love my garden so much I have decided to recreate it in my own garden in Ballyneety, Co. Limerick which I am planning to open up to tours soon."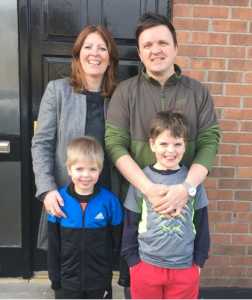 Des created the garden for homeowners Rachel Mescall, Pat Fitzpatrick and their two sons Nathan (8) and Mason (6) in their new dream home in Annacotty, Limerick. It was a long and emotional journey but the goal to have a beautiful garden for their growing boys to play in kept their dream alive. Rachel loved gardening as a child and as a nutritional advisor, loves that their Super Garden has space to grow vegetables.
Rachel said, "Having had a few weeks growth and plenty of sunshine our garden now looks fuller and greener. The boys love being out there playing games, building Lego and helping me collect the lettuce, kale and cabbage from the veggie wheel. It's like having an extra room to the house and is lovely to spend time in with family and friends."