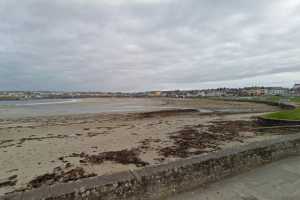 LIMERICK holiday makers have been left high and dry on Kilkee beach as the swimming ban has dampened the moods of visitors and businesses alike.
With a swimming ban imposed for several days, local businesses and visitors to the West Clare village have been left disappointed and frustrated.
Sign up for the weekly Limerick Post newsletter
Last week, an electrical fault at the local wastewater treatment station, resulted in the discharge of raw sewage into the Victoria stream. This in turn forced the closure of the beach amid bacteria and safety concerns.
Clare County Council said in a statement that on the advice of the HSE, "public bathing notices and red flags indicating that swimming is prohibited at Kilkee beach will remain in place until further notice.
"Resumption of swimming will be recommended when water quality test results return within bathing water quality limits.
Those bacteria test results were expected this Wednesday but it is unclear when the beach would reopen to bathers.
Meantime, dismay has been expressed at the popular resort resembling a "ghost town" during the beach closure.
Mother of three and Limerick woman Ciara said that each year, "we have kept up the tradition set by our family and many other Limerick families. We save and use our disposable income to come to Kilkee as its a home from home. Not being able to hit the beach is really frustrating as more than half of our holiday has slipped us by with this."
Hotelier Johnny Redmond of The Strand Hotel told Clare FM that "thousands of children and families "flock here every year with the beach, swimming in the pollock holes and ocean activities being the reason that they come here. It's normally so safe and clean and for this to happen in height of the high season."
As much criticism is levelled at Irish Water, Mr Redmond added that last week he went from seeing hundreds on the beach, "to a point when the sign went up and the town emptied".
However, Irish Water has said that the swimming ban is no longer linked to issues at the wastewater treatment pump house as they have been resolved.
The current notice is a new one that resulted from heavy rainfall, they have said.
Businesses are now fearful that the ban will cause long-term damage to the reputation of the seaside village.
See more news here