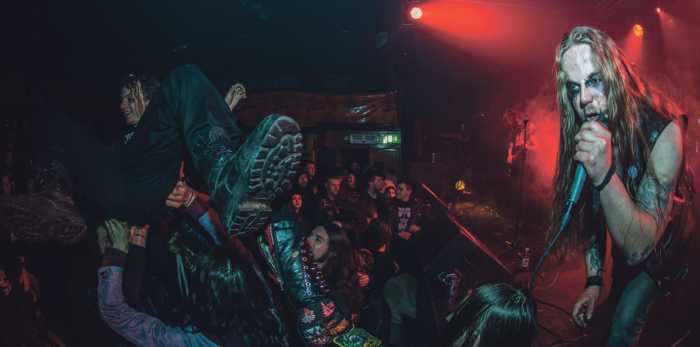 HARDWORKING collective Bad Reputation Ireland bring live heavy metal music to Limerick city and celebrate their tenth year in existence this weekend with a show at Dolan's Warehouse.
The collective has helped to establish the city's credentials on the international metal scene and today, Limerick is right up there with Dublin and Belfast on the touring schedules for metal/ doom/punk acts.
John Real (aka Tall John) of BRI spoke to Limerick Post this week.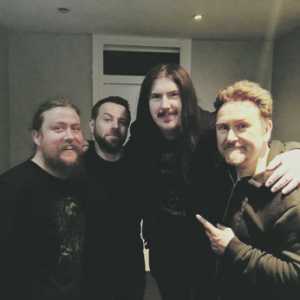 Bad Reputation Ireland was born in 2007 out of the need to get regular heavy metal gigs happening in the city again after the closure of live venues like The High Stool.
In this void John, Shane Horan and Ciaran Culhane formed a collective to run a weekly gig. Baker Place was the first venue. Sunday nights were available and Bad Reputation ran weekly shows featuring local acts.
"After a year and a half, there was an appetite for it locally so we said we'd try bringing in some of the larger national bands," says John.
Once Baker Place closed the collective moved its operations to Dolan's and has since grown from strength to strength.
"We have surpassed Cork for gigs on the metal scene. We are consistent and we have a diversity in the gigs we are putting on and we are not charging high prices for tickets.
"Limerick is a small city but it has a good appetite for gigs, you are guaranteed a crowd and guaranteed to have a good time."
The collective has brought rock/metal's heavy hitters Napalm Death, Steve Harris (Iron Maiden)and Therapy? to Limerick and runs gigs regularly on the Dock Road, everything from punk of Sick of it All to tributes to Black Sabbath and Slipknot, to the twice yearly metal blowout Siege of Limerick.
The Siege of Limerick is a bi-annual metal fest held in Dolan's with access all areas to three stages on the Easter and October bank holiday weekends. Siege attracts hundreds of quality metal touring acts for a day-long festival that remarkably, is free to the public.
It is one of the most anticipated festivals. Siege is a one-of-a kind offering that brings metal fans from all over the country and from further afield too, from the US, Berlin and Romania on a pilgrimage to hear over 40 bands play throughout the day.
Like many great ideas, Siege kind of happened by accident, explains John.
"The first Siege happened by mistake. We overbooked for a bank holiday Sunday in Bakers and after a chat decided we'll just run it as an all day event. We packed out the event – upstairs and downstairs."
Today it is a feeder for all the other Bad Reputation gigs and a showcase of what is going on nationally.
"There is a waiting list for the next two years to play Siege. Bands are staying together just to play the Siege."
Putting on a day-long event with dozens of bands, some international, and not charging a ticket price is a huge achievement. The venue offers some support, the bands participating lower their fees, sometimes play for free to be a part of Siege and the all important merchandise stalls do brisk business on the day.
"The bands know that are going to get to play to an audience and a full house. Since the era of Black Sabbath, vinyl has always been important in this sub genre. There was never a dip in vinyl sales or merchandise in the metal world – those things are your bread and butter."
The Siege of Limerick gigs bring an audience into the city from all over the country and beyond. It brings business to the city.
The travelling fans and the bands tend to make a weekend of it and many get buses to the Cliffs of Moher or Bunratty. Some visit the site of the original Siege of Limerick at King John's Castle.
"Siege puts Limerick on the map. Its the biggest festival of its kind in Ireland. People invest in the city, eat in the restaurants and see the sights – and come do a bit of head banging."
At Bad Reputation gigs the music is ferocious, loud and fun. But above all that, Bed Rep is a community. They come together for fun, for the love of these genres of music.
Siege attracts as many girls as guys with T-Shirts selling in boys and girls sizes in equal measure and as it is an all ages event for the early part – you get the older rockers bringing their kids to the show.
"You don't have to like the music to go the this event. Friends of mine go because it is a really good day out."
International bands are willing to come to Limerick for free because of the good reputation that Bad Reputation Limerick has built.
And at the heart of all this, John and the organisers are metal fans who love what they do and volunteer for this twice a year.
"It is cool to be able to contact bands that we were fans of since we were teenagers and now they know of our event.
"Napalm Death are pillars of the metal scene – they knew about what we were doing.
"Not bad for two gawky lads from Limerick."
The future for Bad Reputation Ireland is full line-ups for the biannual Siege of Limerick. There is already a two year waiting list and its growing.
A metal gig in the original site of the Siege of Limerick at King John's Castle is on the to-do list and progressing nicely.
In the meantime the collective celebrates ten years of metal, doom, down tuned guitars and loud rock'n'roll with a line up of UK band Seven Sisters and some of Limerick's finest rockers.
10 years of Bad Reputation happens this Sunday August 6 featuring Seven Sister, Mourning Beloveth, Snowblind, Shardborne, Na Cruithne and DJs. Tickets €10 from www.dolans'ie.