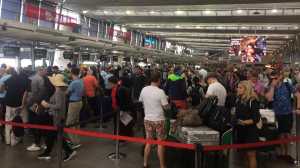 AIRPORT delays, that are crippling holiday-makers plans at larger European airports could be a blessing in disguise for smaller airports such as Shannon, the head of the Irish Travel Agents Association (ITAA) has said. 
Pat Dawson said increased security in Europe happened to coincide with the busiest weeks of the year for holidaymakers and those delays could persuade many of those thinking of a last-minute break to fly out of less busy airports such as Shannon and Cork. 
Sign up for the weekly Limerick Post newsletter
The travel industry has been lobbying the government to provide extra staff to deal with the delays at Dublin Airport, which are being caused by high volumes of passengers. 
If the delays continue, Shannon and Cork should get a share of passengers, Mr Dawson said.  
"I think you will see people travelling that extra 90 minutes to Cork or Shannon knowing they will have their car parked and be through security within half an hour. 
"That is the beauty of a smaller airport. We would love to see extra routes from Cork or Shannon as opposed to Dublin, but I think passengers will see the extra benefits of hassle-free travel outweighing the smaller amount of routes," he said. 
Mr Dawson said that the reports of massive queues and delays at passport control in major European airports would also lead to holidaymakers turning to the smaller airports.
As well as hours of delays, stricter passport scrutiny has led to many passengers missing connecting flights.   
What used to take a few seconds is now taking up to two minutes to process for each passenger. 
"Faro is undergoing a huge construction project, while Barcelona is threatened by go-slow action. We in the ITAA would now love to see Cork and Shannon capitalise by introducing more routes," Mr Dawson added.
Read more stories in the Limerick Post News section.