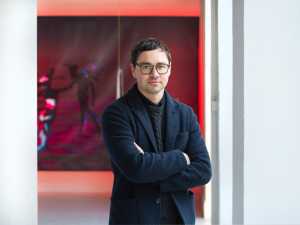 THE newly-appointed director of the EVA International has responded to criticism of the amount of funding allocated to the biennial contemporary arts festival.
At the July Metropolitan District meeting of Limerick City and County Council, concern was expressed that, in addition to Arts Council funding of €220,000, EVA had been allocated €5,000 from the local authority. A number of councillors felt that the money was approved for EVA ahead of smaller festivals that could have used seed funding to get off the ground or expand.
Sign up for the weekly Limerick Post newsletter
In a statement issued to the Limerick Post last week, EVA International Director and chief executive Matt Packer claimed that EVA should be seeking greater levels of funding to match its ambition and its impact
"With a history that dates back to 1977, EVA International has grown to be the largest and most significant visual arts event on the island of Ireland. Recognised as 'Ireland's Biennial of Contemporary Art', EVA International is a national project that is embedded in Limerick and yet extends internationally, from Eindhoven to Dakar to Alessandria to Hong Kong, " Mr Packer explained.
"Every two years EVA works with leading curators to create a 12-week programme of exhibitions and events that engage the city of Limerick. The 2016 edition of EVA featured 57 artists, attracting over 100,000 visitors. In that same year, EVA employed 57 Artists, 33 technicians and contractors, 60 artistic employees and over 48 volunteers and interns.
"Looking ahead at the 2018 edition, EVA is not only focussed on delivering a world-class biennial exhibition, but looks set to increase audience numbers by 50 per cent as a result of marketing initiatives, youth programmes, and the use of new venues.
"EVA has recently launched a programme of training and professional development opportunities for local art technicians that will boost employment prospects across the sector," he added.
"It was reported that EVA International receives €222,000 regular funding from the Arts Council. It is important to understand this scale of funding in relative terms. Seen in comparison with other national festivals and events funded by the Arts Council in Dublin, Galway, and other cities, it is clear that EVA International should be seeking greater levels of funding to match its ambition and its impact.
"With increased funding resources, we can deliver even more to engage local audiences and promote Limerick as an international destination for contemporary art and tourism."
"As newly appointed Director of EVA International, I am proud to be living and working in a city that has embraced cutting-edge contemporary art for the past forty years. It's an impressive track record that we should be building upon as we look to the future. There's no other city in Ireland quite like it," Mr Packer concluded.
The 38th edition of EVA runs from April 14 to July 8 next year, when it will be curated by Inti Guerrero, Adjunct Curator of Latin American Art in Tate, London.
Read more news stories in the Limerick Post News section.