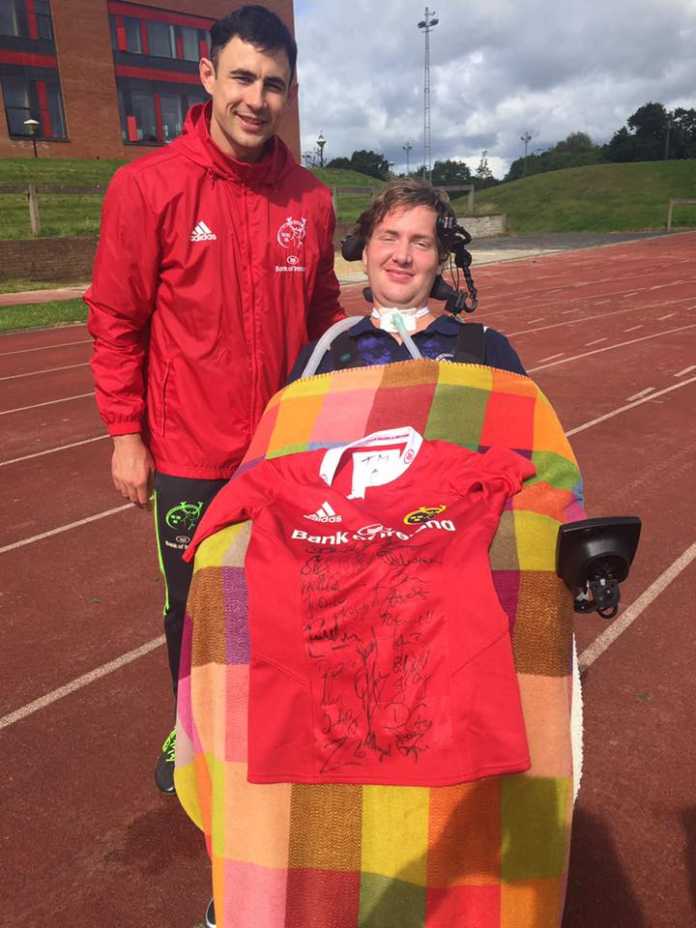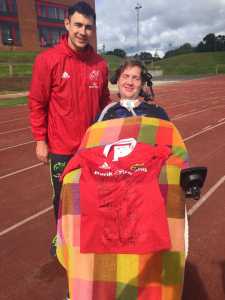 Munster Rugby showed their true sportsmanship today when they met with Spinal Injuries Ireland (SII) service user Shaun Fogarty following the training session for their game with the Cheetahs tomorrow.
Shaun (25) as he has been a firm supporter of the province since his young days and in recent years has struck up a friendship with Head Coach Felix Jones.
Felix was on hand today, along with Simon Zebo, Jerry Flannery and the rest of the team, to show Shaun around the team's high-performance training centre at the University of Limerick (UL).
Meeting the players and watching their training session was the cherry on top of a fantastic week for Shaun as it coincided with him celebrating his first week in UL.
Shaun sustained a high level spinal cord injury four years ago following a car crash which led to him being hospitalised for over three years. He now needs a ventilator to breath and relies on 24-hour care. He finally received a care package to return home to live with his family last Christmas 2016 and has been enjoying a more independent life ever since.
He has never let his injury stop him from achieving his dreams, however, and he was determined to return to college.
It was a fantastic day all round for both Shaun and Munster.
CEO at SII, Fiona Bolger, said: "We're big supporters of Munster here at SII and we are looking forward to watching them beat the Cheetahs tomorrow! I think we all agree, however, that there is only one superstar here today. That person is Shaun, for continuously battling throughout his injury and always staying true to his word that he would return to college. He shows us that to the brave and faithful, nothing is impossible."