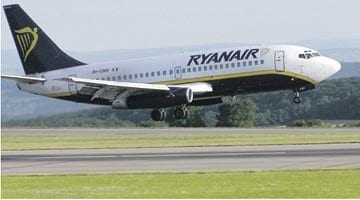 Shannon services were not listed amongst those grounded by Ryanair
RYANAIR'S Shannon Airport services are unaffected by the airline's decision to axe up to 50 flights per day up until the end of October.
The carrier announced plans to cut and reduce services from certain airports in a bid to accommodate pilot's holidays.
Sign up for the weekly Limerick Post newsletter
However, this Monday, Shannon Airport passengers were able to breathe a sigh of relief as no flights were effected when the carrier published its list of cancelled flights.
In a press conference this Monday, Ryanair boss Michael O'Leary apologised to customers effected as he released details of the "lines" that would be cancelled.
Routes out of Shannon, including Gatwick, Stansted, Faro, Lanzarote, Malaga, Alicante and Wroclaw are likely to remain unaffected by the airline's grounding of flights.
A number of Dublin routes including Paris, Milan and London Stansted on certain dates have been cancelled. Services to Birmingham, Madrid, Brussels, Manchester and Bristol are also effected but customers will receive email confirmation from the carrier as to flight status.
While Ryanair says that just 2 per cent of its customers will be effected their helpline service can be reached at 0818 30 30 30 for anyone querying cancellations.
See the full list of cancelled flights here
See more news here