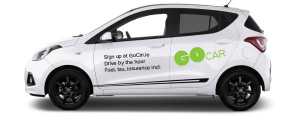 CAR sharing company, GoCar is expected to roll in to Limerick later this year.
Launched in 2008, GoCar allows members to book cars through their dedicated app or online log in. Upon arriving at a GoCar station, members swipe their GoCard or use the app to open the doors before entering a pin to access the car key.
When the trip is finished, the car is returned to its pick-up point.
GoCar has announced a further €6 million investment to double its fleet by 2018, bringing the total number of GoCars to more than 600 across Ireland.
The firm has also established partnerships with Irish Rail and County Councils which has led to an expansion of its service to more counties including, Limerick, Galway, Kildare, Kilkenny, Waterford and Wicklow.
The new Irish Rail bases will make it easier for commuters to combine rail travel with car sharing and embrace sustainable transport with reduced dependency on private cars.
See more Limerick news here