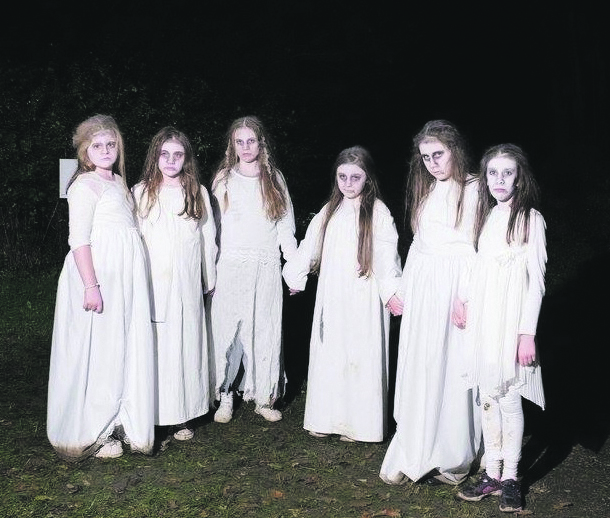 "THERE is a mystery about this which stimulates the imagination; where there is no imagination there is no horror," Arthur Conan Doyle famously penned in the first Sherlock Holmes book 'A Study in Scarlet'.
This theory will be put to the test on Sunday, October 29 when Curraghchase Forest Park comes alive with spooks and spectres as AK UTD and various organisations within the Kilcornan community come together to raise funds.
This is not an event for the faint of heart, as the West Limerick tourist hotspot will be taken over by vampires and zombies, werewolves and every other kind of monster imaginable, for a fright-fest that will have the hairs standing up in places you didn't even know you had them.
The scenic forest walks will be turned into a Halloween terror trail for this nightmarish fundraiser with bumps in the night aplenty.
Last year the AK United soccer club and local groups joined forces to plan a Halloween spectacular and within three weeks came up with a fantastic terror trail for pre-teens and adults that many are still recovering from.
This year the event has an over 13 age warning on it as the organising committee have promised to make this a much darker experience for everyone involved.
And to up the ante on the scare front, local Prince of Darkness, Darren Shan, who has sold more than 25 million copies of his terrifying young adult novels, will even help out with some of the actor's dialogue.
The Limerick writer is world renowned for sending shivers down spines, so all the stops are being pulled out for this year's event.
In 2016, Kilcornan's community effort saw 80 volunteers acting out the terrifying parts across the forest park with 120 volunteers helping over the course of the weekend.
Coilte and Warren Higgins from Curraghchase Caravan and Camping are also on board this year as the trail itself takes place around the campsite.
Tickets cost €20 each and are available now at www.kilcornan.com.
by Alan Jacques