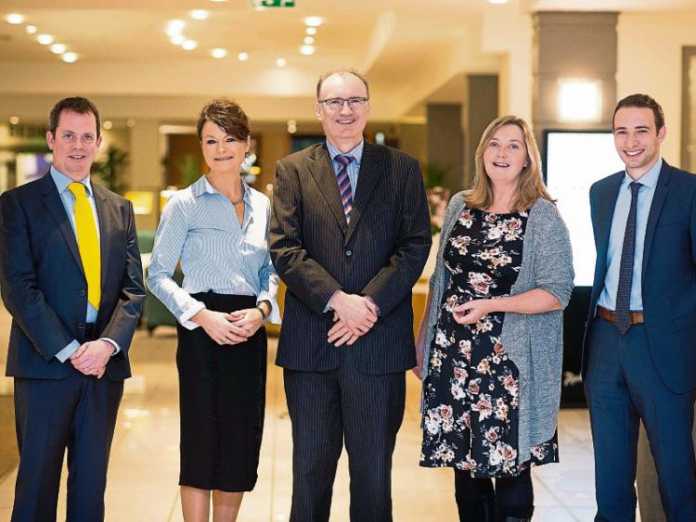 BUDGET measures to prevent 'land hoarding', should push more property back on to the market but increasing commercial property tax could "send us back to the bad old days" a business meeting in Limerick has been told.
Last week, the Limerick Post revealed that only 44 (1.5 per cent) of a potential 3,005 housing units were under construction on NAMA sold land since 2011.
This was described by Fianna Fail TD Niall Collins as a "national travesty and a result of current Government housing policy and deference to international investors".
Sign up for the weekly Limerick Post newsletter
However, addressing the Shannon Chamber/Grant Thornton annual budget breakfast this Wednesday, Professor Sheila Killian said the vacant site levy would encourage people not to hoard land and was designed to push property on to the market.
"But it won't address homelessness hugely", Professor Killian warned.
Billy McMahon of Grant Thornton said that the trebling of stamp duty on commercial property transactions, "makes that tax take a very important event for financing the overall Budget package.
"Is this a return to the bad old days by financing the sector with one off commercial transactions? It really questions the possible impact on regional development as it will make deals much more expensive.
"Reducing the tax to 2 per cent in previous Budgets has worked in Dublin, but is it a concern for this region as the same developmental impact has not been seen here or around the country.
Minister Donohue predicts that the tax take from transactions next year will be significant with €10billion worth of commercial property changing hands.
"Yet only €4 billion of commercial property transactions happened last year, maybe they know something we don't", Mr McMahon added as he noted that there were missed opportunities in Minister Donohue's address.
"In addressing the societal issue, the budget introduced social housing builds, new credits for small developers and housing assistance payments and while they are welcomed, it really isn't enough," Prof Killian said.
While there were "little bits for everyone in the budget", Wednesday's event heard that there were a number of missed opportunities for a more balanced approach to regional development.
The UL professor said that "the more development that goes in to Dublin makes it toxic and this is not good for the country. There was an opportunity to address that but measures now proposed suggest that regional development will become more expensive and eventually slow down.
The event could not pass without talk of Brexit and what Budget 2018 looked at in respect of the UK's exit from the EU.
While Brexit grants were welcomed by the panel, "who knows what is going to happen ?" Professor Killian asked.
"It is being made increasingly difficult as the Brexitiers don't have a plan themselves, so how can we in turn plan for what to do.
"There are opportunities in educational research going down the line if there's an exodus from London city, but there is a lot of risk still for SMEs".
However, Mr McMahon said that Budget 2018 "is a good news story" for business with the introduction of the KEEP scheme for employees to hold shares in the unlisted companies they work for.
"The Retention of the 9 per cent VAT rate is of huge benefit to tourism also" he said.
But largely, the winners in this Budget were employees, social welfare recipients and electric car owners, while the main losers were those in the business of commercial property, "perma tan fans" and fizzy drink lovers.
See more business news here