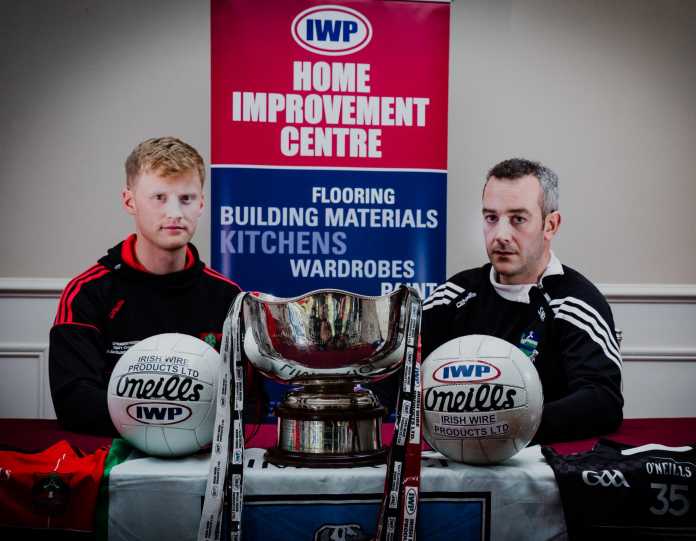 Preview by Mal Keaveney [email protected]
FROM an initial field of twelve, the 2017 Irish Wire Products-sponsored Limerick Senior Football Championship is now down to a final meeting between Adare and Newcastle West at the Gaelic Grounds on Sunday October 22 next, 4pm.
This 'all west' clash is a novel pairing, and expected to attract one of the largest crowds in recent times to a football showdown.
While Newcastle West were always likely to be in the reckoning, Adare are very much surprise finalists having just been promoted from the intermediate ranks and now again within touching distance of a first senior championship crown.
NCW have been here several times before and enter the final arena carrying the tag of favourites, against a club looking to avoid a third final loss.
On offer at the weekend is the magnificent Fr. William Casey Memorial Cup, presented in recent years by the Fr. Casey's club of Abbeyfeale in memory of their late Parish Priest who led the local tenant farmers in their struggle against landlordism in the 1880s.
Division One league winners Newcastle West were out of the blocks in style early on, handing out some serious drubbings in the early rounds and while that pace eased off a little, the outfit is still full of potential. Fielding a large chunk of the side that won the championship only two seasons ago, the Magpies were at their peak when eliminating holders and favourites Monaleen in last month's semi-final, an occasion in which Jamie Lee scored a sensational 2-5.
There is no scarcity of talent in the Joe Lee managed Newcastle West side, with class acts such as goalkeeper Andrew Ruddle, Mike O'Keeffe, captain Iain Corbett, Cian Sheehan, Mike McMahon, Donnchadh Woods and the Kelly brothers of Stephen and James.
Adare's progress in the championship, under the careful management of Harry Gleeson, has been steady. It gained lively momentum in the replayed win over Ballylanders in the quarters and against seven times champions Dromcollogher/ Broadford at the semi-final stage. In both games, Adare grabbed a hat-trick of goals.
It's the side's ability to claim these three-pointers that has propelled them onto centre stage.
Adare's goal getters are Robbie Bourke, Mikey Lyons, Mark Connolly and the club's 2015 county under-21 winning captain Davy Lyons. Others well capable of contributing on the scoring front are Hugh Bourke, Jack English and Stephen Keeley. Further back the pitch, the Maiguesiders will hope for lead performances from Aodhan O'Connor, Eoin Ryan, Paul Maher and skipper Shane Doherty.
A fast, open game is in store with no shortage of scores. It promises to be a high scoring contest, with Newcastle West given a slight nod to reclaim championship they last won in 2015.
The new champions will represent Limerick against either Cork or Waterford opposition in the Munster Championship on the second Sunday of November.