NEW regulations that would allow Gardaí to stop sulky races are due to be voted on by members of Limerick City and County Council.
The members of the Metropolitan District of the council were due to debate the proposed regulations this week, but the meeting had to be deferred because of Storm Ophelia.
During several earlier debates, councillors decried the practise of racing horses and sulkies on busy roads as both cruel and dangerous to the public and to other drivers in particular.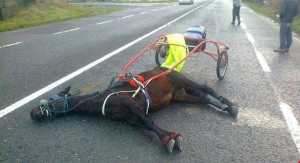 The proposed new bye laws would outlaw the races on public roads unless special advance permission has been granted by the authorities.They would also make it an offence for anyone under the age of 16 to take part in such racing and, crucially, would make it an offence to be spectator at a sulky race on a pubic road.
Councillors outlined at meetings how sulky races were being held on busy city roads at rush-hour, posing a huge risk to other road users and to the horses and drivers themselves.
Members had also called for it to be made an offence to watch the racing or to take part in the sport in any way.
In a submission to the local authority during the consultation period for drawing up the bye laws, Inspector Paul Reidy of the Garda Traffic Corps at Henry Street said that practices during sulky racing include "spectators driving two abreast (on roads) after the sulky race, preventing traffic from overtaking and spectators sitting on the door frame of moving cars to shout encouragement or video the race.
The drivers of the sulkies are often children under the age of sixteen, the Inspector said, adding "this is totally reckless and extremely dangerous to themselves and others present".
The practice causes "unnecessary suffering," to the horses and, in many cases, participants "appear to have a total disregard for animal welfare," the inspector said.
If councillors were to adopt the proposed bye laws it would "strengthen the hand of the Council and the Gardaí in preventing such reckless and dangerous practice on our roads," Inspector Reidy said.