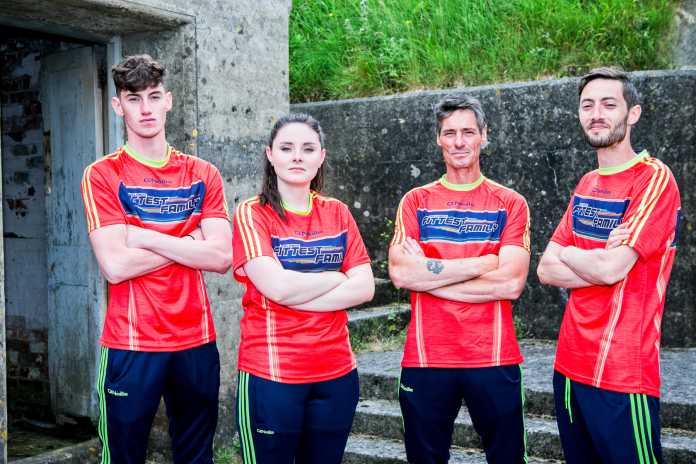 THE HYNES family from Knockrainey in Hospital wants the whole country to know that they fit the bill as Ireland's fittest family.
And they are bound to have a big audience when they compete for the title in a new series starting on RTÉ One television on this Sunday, October 29 at 6.30pm. 
Ireland's Fittest Family 2017 will see 12 mega-fit families compete against each other to win the title and the €15,000 prize money that goes with it. 
Tony Hynes (51), his daughter Leeayn (23) and his two sons Jamie (27) and Adam (17) will be up against five other families in the gruelling tunnel challenge in episode one of series five. 
This year's competition has a coaching line-up that includes series four winner Anna Geary, GAA legend Davy Fitzgerald, returning hero Derval O'Rourke and first time coach and rugby legend Donncha O'Callaghan. 
New tougher locations have been added to the series, which test all aspects of fitness, starting with Camden Fort Meagher in Crosshaven Co. Cork. Dark damp underground tunnels terrify the families in the very first event, and it doesn't get any easier in the eliminator, which the coaches believe to be the toughest course ever featured on the series. 
Donncha O'Callaghan said: "After watching it at home for years I'm dying to get stuck into Ireland's Fittest Family. I'm not a coach but I've been a member of a family for 38 years so I've plenty of experience! And I'm looking forward to playing a few mind games with Davy Fitz".
The former Clare All-Ireland winner and current Wexford hurling manager said: "The one thing that really stands out for me this year is the strength of the girls; some of the girls in the competition are the strongest members of their family. The lads will have to up their game!"