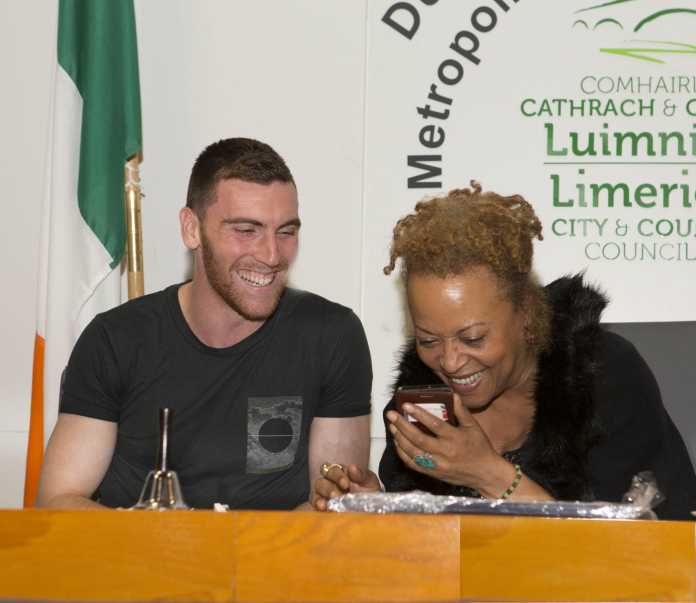 AN enthusiastic céad míle fáilte sounded out by Mayor Seán Lynch on Monday night in City Hall to "distinguished guests" Cassandra Wilson, regarded as the world's greatest living jazz singer, and her band members Lonnie Plaxico and Brandon Ross.
Led by the New York based Irish musician David O'Rourke – producing her next album and organiser of her four-stop tour – Mayor Lynch welcomed the American party with hosts Limerick Jazz Society to platform a mayoral reception "to her adopted Irish city". All prior to that pub gig she had sought out, Dolan's Warehouse this Saturday November 4.
A double Grammy winner, brilliant guitarist and composer, gifted in soul, traditional music and country, Cassandra has collaborated with Courtney Pine, Luther Vandross, Kurt Elling, Elvis Costello, Buddy Rich. She is here on the trail of Irish roots as much as to perform. This Jackson, Mississippi born artist is 21 per cent Irish.
Mayor Lynch introduced her as "the most iconic jazz singer of our generation and blessed with a distinguished and flexible voice. You have the ability to attract audiences from across the broad spectrum of musical history, and that says it all".
Talking to Limerick Post, Cassandra spoke about her quest to explore both music and family heritage while on the island of Ireland. "In my spiritual system is very important to acknowledge ancestors. The relationship to Ireland was
confirmed after three tests that showed a substantial amount of Irish ancestry. [DNA] strand L161 is found in half blood genomes and although quite rare across the world, is very strong here in Ireland.
"There's a particular concentration of it here, found in the North and West and going back to 3,000 or 4,000 years ago. This fascinates me."
There are family trees of interest to Cassandra Wilson with respect to indicators of a connection: her mother's maiden name Fowlkes; then Fenn or Finn; and Key/ Kea/ McKey, according to her research done.  Donegal is high on her list for discovery.
Another mission is to raise "the importance of Irish music in the development of American pop music, something very few people talk about. Of course American music comes from all sorts of strains but I feel Irish music to be the one neglected the most".
She's looking ahead to the variety of music and musicians in her tour, singing variously with sean nós artist Derbhile Ní Bhrollacháin, Liam O Maonlaí and others. "I am looking forward to each concert – all four will be different".
Indeed. At the behest of Mayor Lynch, musician and singer Brian Finn supplied the entertainment at the evening gig on Monday 30, ranging from 'Sean South' to 'Shut Up and Dance with Me' as gaeilge. And with Ms Wilson intrigued by Irish trad, folk and contemporary music, he will now join her on stage in Dolan's Warehouse on Saturday 4 along with John Davis on drums and Niall Vallely on concertina, whistles. They support her American corps of David O'Rourke on guitar, Brandon Ross, guitar; Lonnie Plaxico, bass and Don Helder, production.