PARANORMAL investigators Ghost Eire made a startling discovery at Ballinagarde House in Ballyneety when they established that the dilapidated Georgian House was home to Edward Croker, a former member of the Limerick Hellfire Club in Askeaton.
Built by Croker in the 1700s, who is noted as being, "a worthless spendthrift who brought up an arrogant race of blockheads of both sexes", Ballinagarde House is known by locals as, 'I doubt it hall'.
This phrase came from John Croker. While laying on his deathbed his son, Robert, a clergyman, told him, "There's a land fairer and better than this you'll regard". His father, John, replied, 'I doubt it' in reference to the exquisite surrounds of his lavish stately home.
Ghost Eire, led by husband and wife Anthony Kerrigan and Jennifer Cremins, told the Limerick Post that when they investigated the County Limerick site, they noticed that things weren't quite as they seemed, leading them to believe that Ballinagarde House was very possibly used as the site of Limerick's first Hellfire Club.
"Things didn't seem to add up with the date of the building being built and the painting by James Worsdale and the poem by Dan Hayes of the Askeaton/Limerick Hellfire Club," Anthony explains.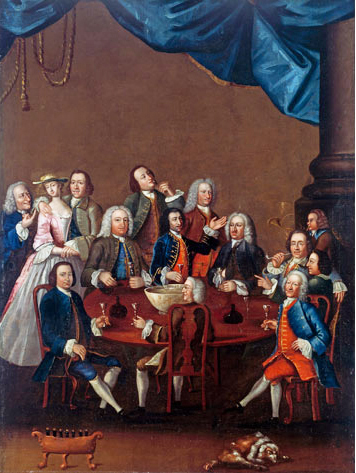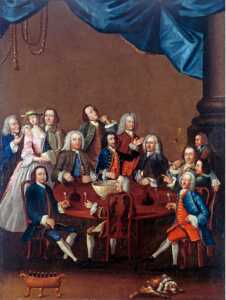 "During the investigation, we got dates to when the club was established, 1745, and a body on the grounds being buried.
"The owner of the building, John, he had no idea that Edward Croker was a member of this gentleman's club, but has stated and has proof the building was built earlier, circa 1745, which we didn't know during the investigation. Research on the Internet indicated it was built in 1774.
"John told us after the investigation that there was indeed a servant buried on the grounds. We did get a servant coming through on the investigation and the use of the words 'cheap ones' coming through. We are now 99 per cent sure Ballinagarde is the original Hellfire Club."
After contacting David Ryan, the author of a book based on the Irish and English Hellfire Clubs, 'Blasphemers and Blackguards', Ghost Eire were sure they had uncovered a real ghostly gem in South East Limerick.
"He assumed the painting of Limerick members of the Hellfire Club couldn't have been done at Askeaton, but more likely at a country house estate.
"Our general idea in investigating Ballinagarde at first was in regard to a legend of a supposed cloven hoofed stranger who visited the house. We were on a mission, yet months leading up to the investigation more secrets of the house and the Croker family who owned it unfolded.
"Apart from Askeaton, there is no evidence of any other meeting spot of the Limerick Hellfire Club. We can only go by a portrait by James Worsdale and a poem by Dan Hayes to who attended and what happened at these functions."
Edward Croker is pictured in this painting and also mentioned in rapturous favour in rhyme by Hayes.
"It must be a coincidence that the wine Croker, renowned to supply for these gatherings, may have come from the same surviving part of the house — the cellars in Ballinagarde. We had no idea that the house was home to a former hellfire club member when seeking access. When we did, we knew we had come across a gem."
As part of their experiments, Ghost Eire introduced a past enactment experiment "to bring in spirits". Gambling also took place at the Limerick Hellfire Club, so the investigators played a simple card game to get things stirring.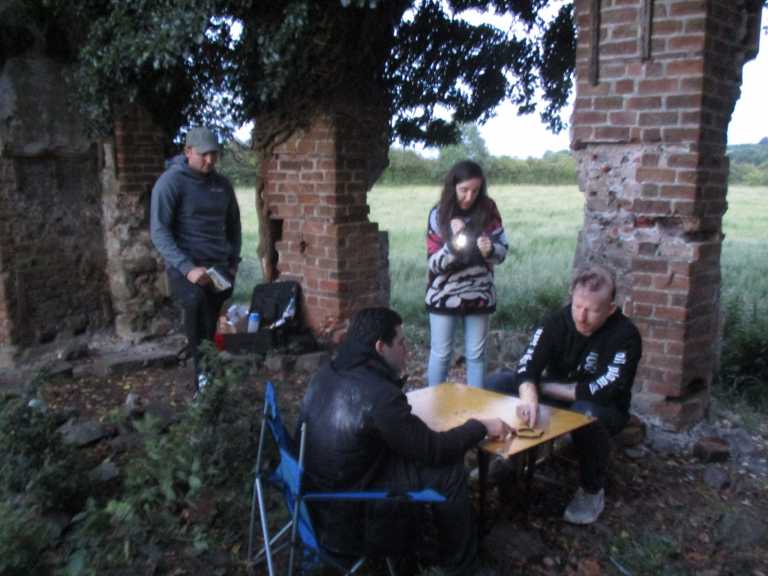 And while conducting an experiment on an Ouija Board, they got some interesting responses from Ballinagarde's ghostly hell-raisers. The planchette moved eerily across the board to spell out "no tell" after they asked what activities were popular at Ballinagarde.
When, Anthony and his team decided to ask about prostitutes, who would have attended the Hellfire Club's debauched soirees, " stay away" came the stern response.
"The topic of sad girls came up too. Perhaps, this falls back to prostitution, in which orgies commonly happened at the gentleman's club. It makes for an accurate account with the Dan Hayes poem," Mr Kerrigan suggests.
He also claims to have been left feeling tipsy earlier in the evening during the enactment experiment.
"Although Askeaton is a town and easy for all to meet up in, it would prove difficult in attaining a sexual urge in the public eye. Ballinagarde had a fine supply of wooded area. Askeaton town, not so much, especially with neighbouring locals and visitors, it would have caused a scene.
"Who knows what the Limerick Hellfire Club got up to, it was an elite secret group, and the chances are endless. One thing is for fact; Ballinagarde has a supreme mystery to it," he concluded.