University Hospital Limerick had the worst level of overcrowding during October, according to figures released by the Irish Nurses and Midwives Organisation (INMO).
The figures confirm that the level of overcrowding, arising from admitted patients being left on trolleys in Emergency Departments or wards, continues to reach record levels.
In October there were 8,903 patients admitted for care for whom there was no in-patient bed. This represents a 15 per cent increase compared to October 2016.
Sign up for the weekly Limerick Post newsletter
The levels of overcrowding in Dublin hospitals increased, following a number of months when levels of overcrowding had reduced.
In hospitals outside of Dublin the situation continues to deteriorate significantly, with record levels both in the month of October and in the ten months of the year to date.
Hospitals with the highest number patients on trolleys in October were: University Hospital Limerick (719); University Hospital Galway (679); Cork University Hospital (635); South                          Tipperary General Hospital (546) and St Luke's Hospital Kilkenny (495).
For the first ten months of this year, there were 82,459 patients admitted for care with no in-patient bed available. This represents an 8 per cent increase on the first ten months of 2016, and a 96 per cent increase on the first ten months of 2007.
The INMO will meet with the Health and Safety Authority (HSA), on November 30 asking them to issue directions to ensure nursing and other frontline staff have a safe working environment.
INMO General Secretary Liam Doran said the latest figures confirm the obvious reality that our public health service is critically short of acute hospital beds, which is having a serious, detrimental and harmful effect upon patient care.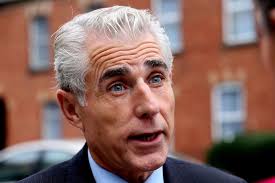 "It is imperative, as we enter the winter period, that all hospitals are empowered and supported to allow for the opening of all available beds; introduce incentivised packages to recruit and retain the required numbers of additional nursing staff and initiate rostered attendance by senior clinical decision makers from 8 am to 10 pm seven days a week.
"It is also vital that all available transitional and long term care beds, home care packages and home help hours are available to all community nursing management/services", he added.
"In order to address this crisis, there cannot be any restriction on the funds available to increase the capacity of the health service, as we enter the winter period.
"The Emergency Department Taskforce is scheduled to meet on December 4 when we will be seeking confirmation that all these measures, together with any other initiatives necessary to address this crisis, have been introduced across the system," Mr. Doran concluded.
More health news here