MICK Dolan and the family and crew at Dock Road are celebrating another significant award for the busy venue this year. Dolan's won the Irish Pubs Global Best Entertainment Experience (World)Winner 2017.
The competition was strong from bars across the country, Whelan's, House and Copper Face Jack's in Dublin and Bofey Quinn's in Corofin County Clare. From winning the prize for Irish Pub of the year for Entertainment, the Dock Road venue got the nod in the worldwide category  ahead of Irish bars in Edinburgh (Malone's), Bordeaux (The Connemara) and St Charles, Missouri (McNally's).
These global awards are added to the IMRO Venue of the Year prize won in 2014 and The Hot Press Reader's Award for Best Venue in 2015 and the Pure M Best Venue Award earlier this year.
As is befitting a global force in live entertainment, the December line-up in Dolan's reflects the thriving and growing live scene across the country. It is a mix of Limerick artists that have been making steady progress in the last 12 months, established acts from across the country and a bunch of tribute bands and specialist nights that make up some of Dolan's varied offerings.
Limerick's own Emma Langford will launch her Quiet Giant LP on December 2. Nile St James celebrates a great 2017, the debut single 'Fell For You' reaching No.1 on the Soul/RnB charts, on December 1.
Mick agrees that nurturing the local musicians and projects is an important part of what happens at Dolan's. "We feel we can push our local acts and look after them as part of their development."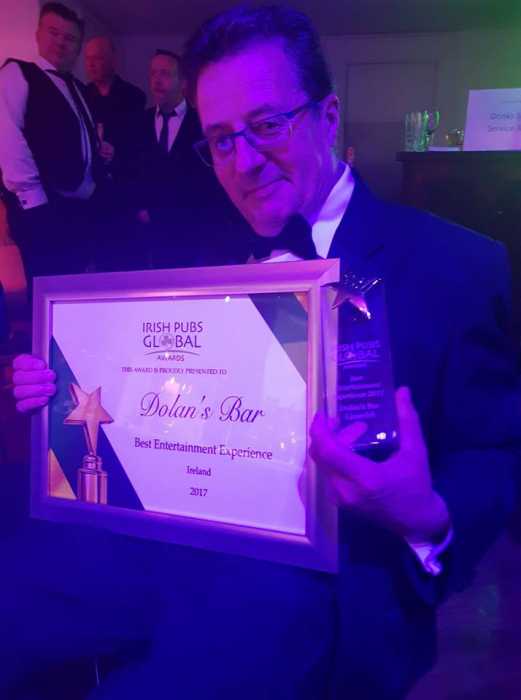 Well loved Irish singer/ songwriters are on the bill such as Ryan Sheridan (Dec 8), Paddy Casey (Dec 9), Declan O'Rourke (Dec 15), Damien Dempsey (Dec 16) and Mick Flannery (Dec 28) and are set to play to capacity crowds.
As sure as there is turkey for dinner there will be HamsandwicH (Dec 17) at Christmas in Dolan's Warehouse along with other evergreen shows that hit the perfect seasonal note every year, Brad Pitt Light Orchestra (Dec 22), Aslan (Dec 16), The Riptide Movement (Dec 29), The Alvin Purple Experience (Dec 15) The Rubberbandits (Dec 27) and Kila will get the party going for New Year's Eve. These bands enjoy their December gigs so much, they put their hat in the ring to be part of the Christmas bill every year.
Sharon Shannon recorded her live DVD in Dolan's. Ten years after that release the legendary musician is back for a show in Dolan's Warehouse with guest Mundy on December 30.
Other shows that are on the "not to be missed" list are the funky Brian Deady (Dec 2) and Lankum (Dec 7), originally called Lynched – they impressed on Later Live with Jools Holland. King Kong Company will bring the electro festival vibes on December 8. Whenyoung are a London based Limerick/Clare trio returning for a show on December 10.
Cork outfit Talos (Dec 20) and Limerick's own Rusangano Family (Dec 21) are both capable of delivering a sublime and unforgettable live shows.
With a healthy dose of "hard work and enjoying what you do," Mick Dolan is looking forward to bringing the world-beating Dolan's (Global Best Entertainment Experience winning venue) to its 25th Anniversary Celebrations in 2019. He already has a list of bands that will be part of that huge celebration.