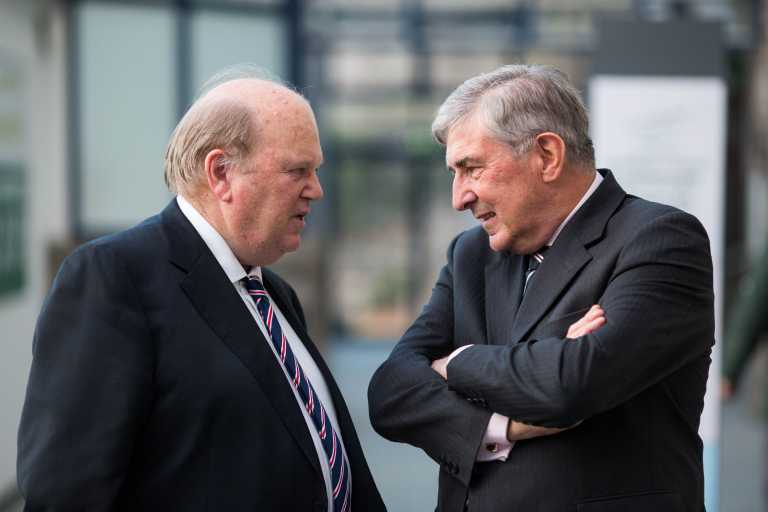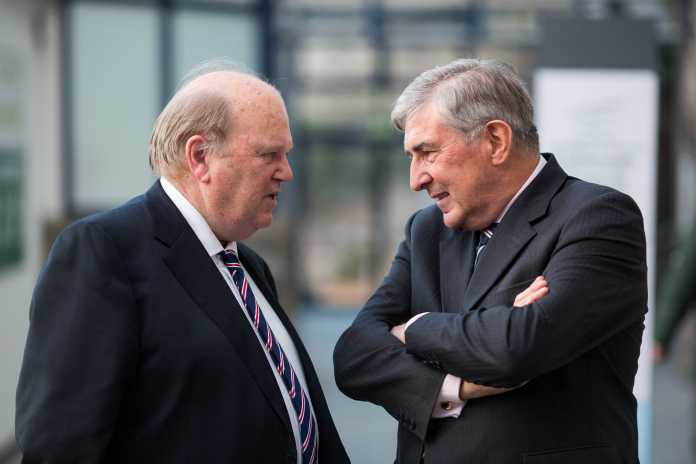 EVEN six years ago there were people who didn't think this was possible, but we have come around full circle now and it is a great time to be in Limerick – there is a lot happening.
It was nearing midnight and Michael Noonan took time out to speak to the Limerick Post after he received the Limerick Chamber President's award accompanied by a standing ovation for his outstanding contribution to Limerick.
At 74, the late night was not phasing the former Finance Minister after a lengthy career soldiering through the corridors of power in Dublin and Europe.
Last Friday night, the secondary school teacher turned politician was praised for his work as "biggest single influencer of Limerick's recent resurgence."
"I am immensely proud, but I feel more fulfilled now.
"Everybody feels that there is very significant progress being made in Limerick and it will continue"
"There is a great feeling that if everyone cooperates, especially the decision makers in the city and the county, we are in for a period of great prosperity in Limerick.
"The 2030 group under the chairmanship of Denis Brosnan are the drivers of the construction part of the development and they are working well together. In his private capacity as chief executive of the Kerry Group, Denis was used to dealing with multi-million euro projects.
As for his own role in Limerick's transformation, Michael Noonan says that while he was "fortunate enough to be in the position of a key decision maker, I always saw myself as part of a team working locally to carry out things I thought were worth doing."
The 74-year-old, who retired from his cabinet position in June, said that the collaborative effort of all the key stakeholders in Limerick is why the city and region emerged to a more  prosperous future.
"It wasn't so long ago that everybody thought Limerick was bedevilled by crime and we would never get development going because of crime levels, so the Gardai must be praised for that.
"It is the team that delivers and if you are in a position to make serious decisions, then you have to make them in the context of a team."
The years spent in the Department of Finance is a time he describes as the "most significant part of my career, and probably the most successful over a long period.
"The development of Limerick has to be seen in the context of the economic recovery because Limerick is a subset of the national economy and it wouldn't be possible to make progress in Limerick against the background of recession everywhere else.
"That means the main achievement was getting Ireland back from bankruptcy and then making sure that Limerick had a share in that.
The Loughill man said that individual decisions he was party to helped that recovery and this is something he is quite positive about.
Tourism VAT, abolishing aviation taxes were amongst the key decisions made in the "interest in the nation but ones that would have had strong local impact. Even incentives to people making films led to the establishment of Troy Studios.
"While I didn't put Troy Studios in place, if I hadn't changed the tax law, it might not have happened.
Referring to fellow Limerick man John Moran's role as a director of the European Investment Bank, he said that "having people in the EIB that I had worked with before helped get the loan approval through".
Speaking of the wider development of Limerick city, Mr Noonan said that "all the usual problems of cities could befall Limerick.
"We don't want crime to return and we want to make sure that the homelessness problem in Limerick is sorted out quickly.
"There was always intermittent homelessness. Often through my time in politics, I'd often get a call about a family that was homeless but they would always be sorted out within a few weeks and we want to get back to that low-level again.
With "quite a bit of building going on in Limerick right now", the Fine Gael deputy feels that the homelessness issue could be resolved within 18 months.
"The big thing though is back to where I started.  If people don't pull together, it will start to reverse again.
Groups who "would fight each other to a standstill is just a waste of energy", he said.
"With a motorway to Galway, which we have; and a motorway to Cork, which is about to be constructed, people living in Cork and Galway are within less than an hour's commute to Limerick.
"You could envisage a situation where you could have the three cities, with Limerick as the focal point – so you are either living in it or are within an hour's commute and I think that puts Limerick in an extraordinary position.
The former four-time minister and leader of Fine Gael called for a halt to development objections from "the one-man picket to stop the progress on the road.
"Some planning matters are being held up unduly and this is hindering the regions evolving.
Putting a stop to these is "crucial because if we want alternative to Dublin, it's not Cork, Limerick or Galway, but there is a very signification alternative in the combination of the three.
"The accident of geography makes Limerick the centre point of that and drives us in to becoming a significant location.
On a personal level, he said that his political life is much more pleasant "as I don't have to be in Dublin six days a week and clear out at the weekend to head for Brussels.
So far, he has refrained from throwing paper airplanes down from the back benches.
"In fact, I'm a model back bencher now," he quipped.
See more Limerick news here