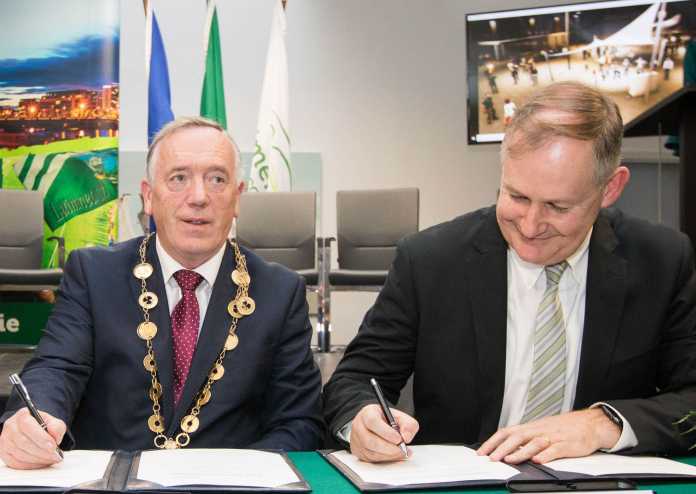 LIMERICK City and County Council's budget for 2018, which was formally adopted last Friday, has a focus on providing additional services directly to communities across the city and county next year.
Councillors voted in favour of the 1.75 per cent commercial rates increase by 20 votes to 19 with Fianna Fáil, Labour and Independents supporting the €158.55 million plan for the provision of services and the day-to-day running of the local authority.
More than half a million euro extra is being spent on direct services for citizens across the city and county compared to 2017. This is funded directly by the proposed 1.75 per increase in the Commercial Rate and Local Property Tax.
Council chief executive Conn Murray told council members that the perception of Limerick has changed nationally and internationally.
"We must drive forward for eco investment in city and county. Innovate Limerick has been a huge success. We also continue to work with micro business through the Local Enterprise Office, but there is more to do. We have to have back up for these resources and that too is provided  in the budget," he said. 
Fine Gael council leader Cllr John Sheahan spoke with enthusiasm on the 2018 Budget and maintained that it contains lots of "good news" and "buoyancy". He felt the Limerick local authority is now the envy of many local authorities and is seen as a "winner".
"The indicators within show that Limerick has turned a corner and is on the cusp of further expansion both economically and socially as a city to work and live in. Initiatives like the Limerick 2030 plan have put us in a unique position as a leading local authority with a subsidiary company owned by this authority and operating on an independent commercial basis," Cllr Sheahan said.
But it soon became evident that the love affair between Fianna Fáil and Fine Gael was now well and truly on the rocks.
Cllr Sheahan continued: "There is a lot of buoyancy in this budget. Figures such as rent and rate collection are up, again a follow through from initiative, which we as a local authority put in place. The tide is rising in Limerick and last year we asked every citizen to contribute. We raised Local Property Tax (LPT) by 10 per cent and Commercial Rates by five per cent, putting a total of €4m extra funding to the coffers. We believe it worked and benefit accrued.
"We also gave a promise that day in relation to increases for the remaining term of this council. That was the understanding we had with our Fianna Fáil colleagues, which went up in the air at LPT time in September. This has led to a budget, which now purports a rate increase to offset what we believe was jelly knees politics.
"We cannot now break our word to the people of Limerick and support a rate increase which flies in the face of all the other initiatives we are doing to give surety that Limerick is open for business."
However, Fianna Fail councillor Michael Collins said that his party members on the local authority would be supporting an increase of 1.75 per cent in the commercial rate.
"This equates to €941,000. This is a significant additional spend, a spend each and every councillor here should support as it will deliver vital resources in areas such as local and regional roads, street cleaning, community, litter management, library service and tourism development and promotion. These are the areas each and every councillor can deliver for their constituents and communities," Cllr Collins declared.
"Our message is we are open for business and highly competitive to do that," he added.
Solidarity councillor Cian Prendiville's feathers were certainly ruffled by what he was hearing in the council chamber.
"Councillors like to think of the Council as a Phoenix rising from the ashes. This budget shows it is more like an ostrich sticking its head in the sand," he claimed.
The City North representative said that "this budget continues the underfunding of local services, and will mean inadequate resources to address crises we face, never mind enough to actually invest for the future. Primary responsibility for that is not on the councillors, or even officials — it's with the Fine Gael/Fianna Fail and Independent government who are continuing to starve local government of the funds needed.
"But the councillors have a choice — they can be like the ostrich and stick their head in the sand, and ignore that, vote through this underfunding of services, or they can be the canary in the coalmine and sound the alarm that this is not good enough," he declared.
Independent councillor Lisa Marie Sheehy fervently pointed out to council members that the marriage between Fianna Fail and Fine Gael was over.
But Mayor Stephen Keary (FG), who was chairing the budget meeting, was not impressed by her outburst.
"I will not be lectured by you. Your own marriage with Sinn Fein broke up a few weeks ago," he said.
"How dare you? I was bullied out. Retract your comment," Cllr Sheehy responded.
After a 10-minute adjournment Cllr Keary apologised for his comments and explained that it was said in "the heat of the moment".
Sinn Fein councillor Ciara McMahon said she had no choice but to accept his apology but told the Mayor that she found his remarks "very distasteful and personally offensive".
Tempers flared elsewhere around the chamber when the issue of housing was raised.
Labour Party councillor Joe Leddin lost his patience with Solidarity's Cian Prendiville accusing him of opposing a housing development on Hyde Road.
Cllr Prendiville denied the claims and referred to Cllr Leddin as a "liar and a cheat".
by Alan Jacques