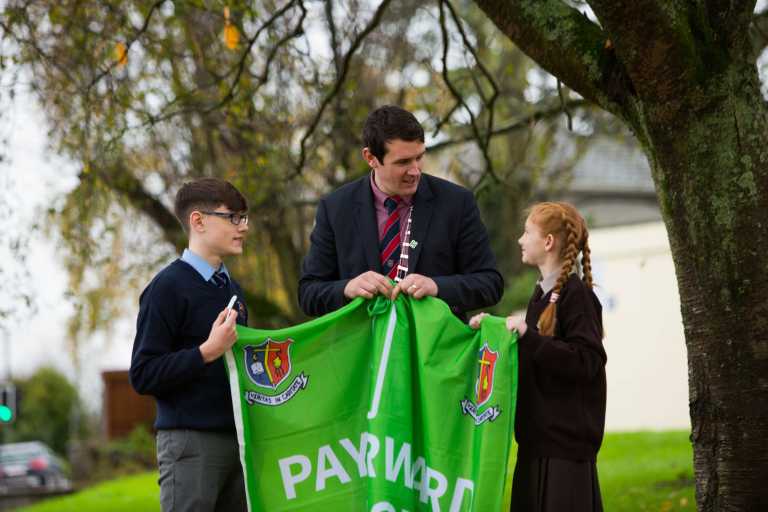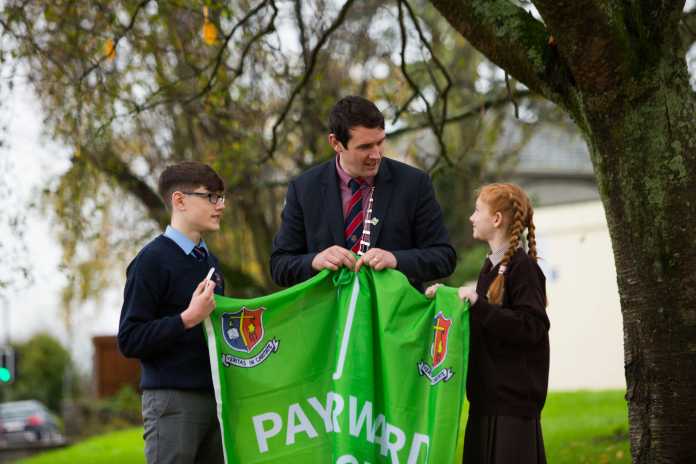 Two local schools were presented with Kindness Flags by the Limerick 'Pay it Forward' group at a special ceremony in Scoil Íde, Corbally on Wednesday.
The special recognition went to Scoil Íde and St Munchin's College. Ardscoil Mhuire, the first school in Ireland to attain the honour in 2016, was re-awarded the flag.
The flag, which recognises a culture of kindness demonstrated consistently by an educational institution and its students, is awarded by Pay It Forward Limerick, the non-profit organisation working to promote Limerick as a city of kindness through policy, education and community initiatives.
Scoil Íde is the first primary school in Limerick to receive the Kindness Flag.
Members of the Scouts assisted students from Scoil Íde with the flag raising ceremony.  They were joined by Deputy metropolitan Mayor Frankie Daly, members of the Pay It Forward Committee and almost 100 students and teachers from 12 schools across the region.
St Munchin's raised their Kindness Flag at a separate event at the Corbally college campus.
Over the last year, students from Scoil Íde, St Munchin's College and Ardscoil Mhuire rolled out initiatives to develop the concept of kindness in their school. Activities included: senior students supporting younger students in the yard and with their nativity plays, charity fundraising, Tutor time treats and handing out teas and coffees.
Scoil Íde teacher Ray D'Arcy, said the school had always placed huge store in the three pillars of respect, tolerance and inclusion, of which kindness is a key component.
"When we were introduced to the concept of Pay It Forward by our friends in Ardscoil Mhuire and Pay It Forward Limerick we were only delighted to join the movement and help make Limerick the "kindest" city in Ireland. We are absolutely thrilled with the way the concept has become embedded into daily life of the school. Huge credit must go to the Students' Council from last year and this year for the work they have put into establishing and now developing the Pay it Forward movement in the school itself and the wider community of Corbally."
Emma Behan, teacher at St Munchin's College, said the initiative was a positive and uplifting experience for both the students and the teachers.
"It is now embedded in our school life and through the use of our bespoke Kindness Code, we will strive to keep Kindness alive and part of our daily lives. We are looking forward to the year ahead and to working with PIFL in the future."
Lorraine Kerin, Teacher, Ardscoil Mhuire, said they were delighted to be receiving their second flag.
"Our aim was and continues to be to encourage a core group of students to engage in selfless 'Acts of Kindness' which would as a result cause a ripple effect throughout the whole school community leading to an exponential growth in goodwill, generosity and common decency. Encouraging and supporting students in our school community to do something thoughtful and selfless for those around them has had a very positive impact on the culture of an already caring and nurturing school. I would encourage all schools to embrace this initiative. Carrying out selfless acts makes us better people and makes the world we live in a warmer and more caring place. The more school communities that continue to get involved the greater the 'Wave of Kindness'.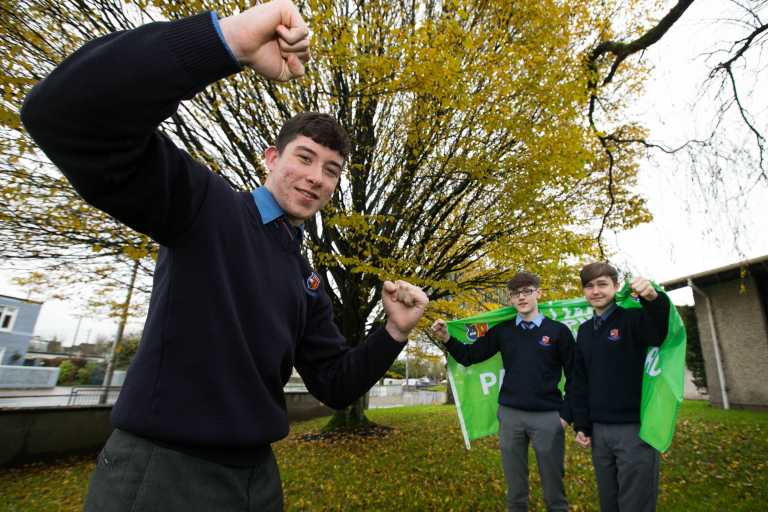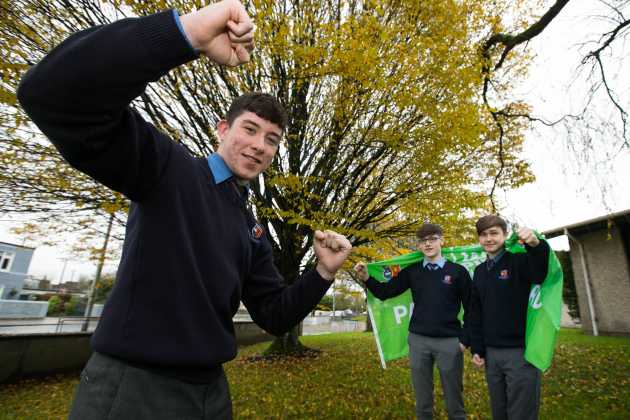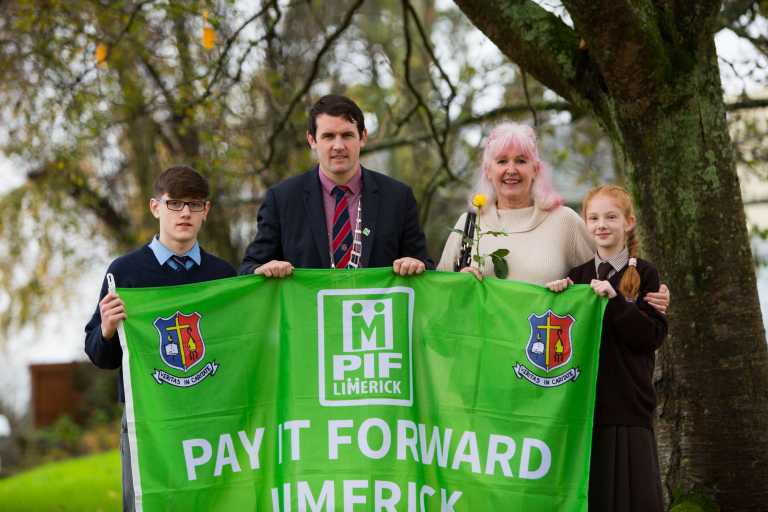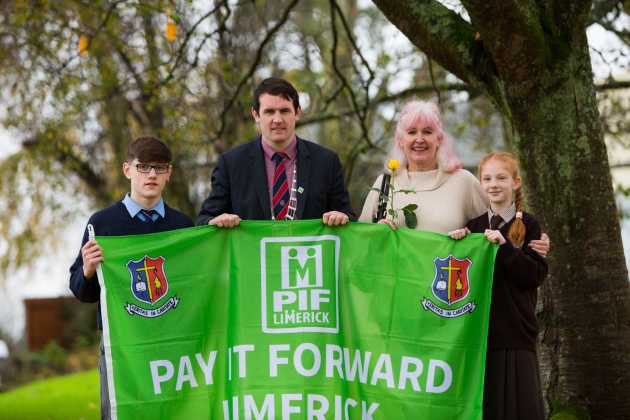 At the flag raising ceremony, nine more schools committed to applying for Kindness Flags next year. They are Martinstown National School; Our Lady Queen Of Peace, Janesboro; St Nessan's National School; Crescent Comprehensive Secondary School; Nano Nagle Presentation Secondary School; Villiers Secondary School; Castletroy College; Corpus Christi, Moyross and Ballina Primary School.
Explaining the concept behind the flag and its success, Siobhan Everard of Pay It Forward said its purpose was to help students appreciate the value of kindness and the profound positive impact acts of kindness can have on a the receiver and the giver.
"The schools must demonstrate that they have participated in a year-long campaign before they can attain the Flag as we believe a sustained effort over time will instil this ethos in them for life."
"The initiative has taken off far quicker than we expected. It has won over the hearts and minds of so many students and teachers – and not just in Limerick. We're very excited about the possibility of the Kindness Flags being awarded to schools in Belfast and Cork," she continued.
Schools seeking further information regarding the PIFL Kindness Flag, can email [email protected]