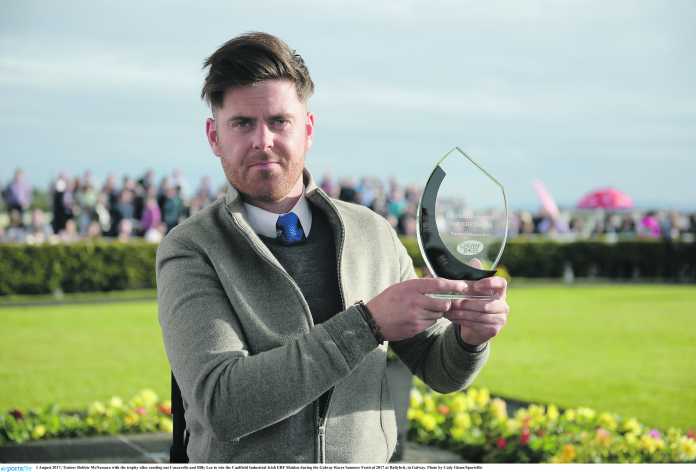 A FORMER Limerick jockey who is now successful horse trainer has credited the power of social media with forcing Electric Ireland to turn his power back when he was stranded without heat on the coldest weekend of the year.
Croom jockey, Robbie McNamara was left without power last week when the electricity was cut off because a previous tenant of the house had not paid the bill.
Despite his landlord paying the outstanding amount, Mr Mc Namara – who is in a wheelchair and paralysed from the waist down following a fall in Wexford two years ago – was told by Electric Ireland on Friday last that he would have no power until Monday when someone would be sent to reconnect him.
"I pay all my bills. The landlord sorted what was owed but the person I was dealing with was just stubborn. I said I was going to take it further, " Mr McNamara told the Limerick Post.
The trainer posted a picture of the thermostat in his living room reading just 1 degree, explaining he had been cut off and tagged the power company in it.
"I was driving home at nearly midnight on Friday night and I got a call from a very helpful lady who said she would have someone come the next day to reconnect me".
Mr McNamara maintains that if he had not posted about the situation, he would have been left with no power and no means to even make a cup of tea in freezing conditions.
"If I hadn't posted, there is n way they would have gone to the trouble of reconnecting me over the weekend. It would have been freezing but I could have shifted to look after myself – what really makes me angry is, what if that was an older person or someone who is not on social media? They would have been ignored".
Mr McNamara said that as a businessman, "if anyone that I employ messes up then it's my responsibility. Electric Ireland are responsible for the completely unhelpful attitude I was first met with".
A spokesperson for Electric Ireland said: "We regret the circumstances that occurred in this particular case. We cannot comment further on the individual aspects of the case as it is our policy to not comment on individual customers.
"Electric Ireland wants all customers to have continued access to energy supply and we have committed to never disconnecting an engaging customer. We would also like to remind all customers who consider that they have a medical vulnerability that there is a facility to register this with Electric Ireland".