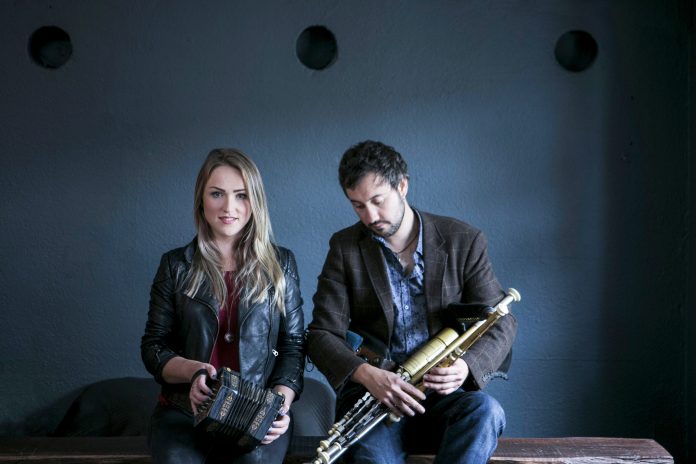 After performing at Other Voices festival in her adopted home in Dingle last weekend, Limerick musician Caroline Keane talks about her new album recorded with French uilleann piper Tom Delany.
'NEVER Say Goodbye, Say Good Luck' is the new album from trad duo Caroline Keane and Tom Delany.
Both players grew up steeped in traditional music, play with trad group Four Winds and recently shared the stage with Andy Irvine in Australia. This new album from these master musicians, concertina and uilleann pipes, is a vibrant mix of traditional tunes learned from friends and newer compositions from the likes of Paddy Keenan.
Caroline Keane is originally from Raheen here in Limerick but now lives in Dingle. From an early age, Caroline was exposed to the richness of West Limerick and Sliabh Luachra traditional music. This become the cornerstone of her uniquely vibrant, passionate and emotive style of concertina playing.
Tom Delany was born and raised in France to an Irish father and French mother. Tom has been playing Irish traditional music since the age of 12, when his father Rory, who emigrated from Ireland in the 80s, taught him to play the tin whistle. He picked up the pipes a year later. Inspired by the uilleann pipes played by Paddy Keenan and Davy Spillane, Tom travelled to the West of Ireland regularly. He currently resides in Ennis. His dynamic playing echoes the music of North Clare. He performs and teaches regularly in his adopted home town.
Caroline Keane and Tom Delany began playing together in 2010, while both studying at the Irish World Academy of Music and Dance at UL. Tom and Caroline have toured extensively, performing around Europe, Canada and America. Their music reflects their personalities, Tom's rhythmic playing is powerful and daring, Caroline's playing is vibrant and passionate.
Living on the Dingle Peninsula for the last number of years, the local music has also put an influential stamp on Caroline's unique style of concertina playing.
"We both studied at the Irish World Academy of Music and Dance, at the University of Limerick. We started playing music there and we were both very attracted to those different styles, it's great to blend and interweave our influences."
Having spent the last number of years living in communities where traditional music is at the heart of daily life, the album sets out to reflect the richness of Clare, Limerick and West Kerry music.
"We wanted to illustrate the last four years of music together. We picked tunes which we learned from our friends and from our musical heroes," says Caroline.
'Never Say Goodbye, Say Good Luck' features an impressive guest list: Donogh Hennessy (guitar), Cyril O'Donoghue (bouzouki), Elaine Hogan (harp), Robbie Walsh (bodhrán), Laura Kerr (fiddle) and Brian O'Loughlin (flute).
The album can be streamed and bought at keanedelanymusic.bandcamp.com/album/never-say-goodbye-say-good-luck. Copies of the album will be available on their live tour.
Caroline Keane and Tom Delany launch their album 'Never Say Goodbye, Say Good Luck' this Wednesday December 13 in Dolan's
https://keanedelanymusic.bandcamp.com/releases