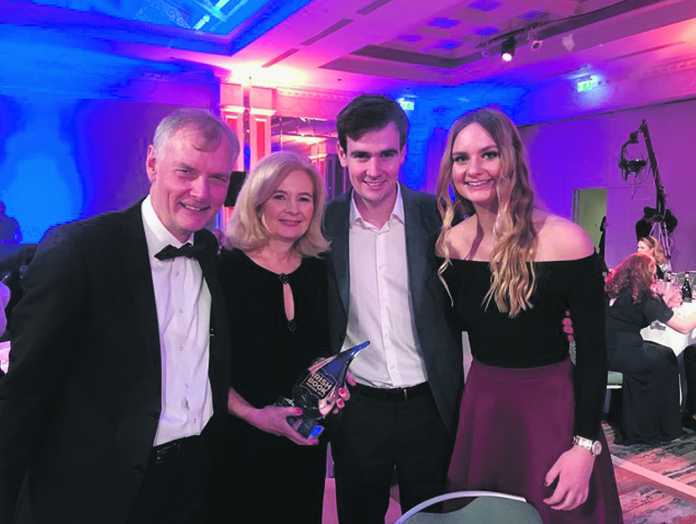 LIMERICK author Judi Curtin's latest book 'Stand by Me' has been crowned Children's Book of the Year (Senior) at the Bord Gáis Energy Irish Book Awards in Dublin.
Now in its 12th year, the Bord Gáis Energy Irish Book Awards was founded to celebrate and promote Irish writing to the widest possible range of reader. Each year it brings together a huge community passionate about books – readers, authors, booksellers, publishers and librarians – to recognise and celebrate the very best of Irish writing talent.
Thousands of ordinary readers vote to select the winners every year. This year, in excess of 50,000 readers and book lovers made their voices heard and voted to select the winners in each category. 
And at a star-studded award ceremony last Tuesday, Limerick's very own Judi Curtin won one of the night's 15 big prizes for her newest book 'Stand by Me', which was voted National Book Tokens Children's Book of the Year (Senior). The book tells the story of Molly and Beth who travel back to the past, in an effort to fix a friendship that was destroyed in 1960.
Judi has published 25 books. This was her fourth time being nominated for the award.
"While they've been well-received, and shortlisted on a few occasions, until last Tuesday I had never won an award of any kind. When the announcement was made, I honestly couldn't believe it," she told the Limerick Post.
"The rest of the night passed in a happy blur, and I still haven't quite come back down to earth. I'd like to say a huge thank you to all the people who voted for me, and made the magic happen. I now have to decide whether to write a third book about Molly and Beth, or if I should start to develop new characters. Whatever I choose, I'll be doing mental planning over the next few weeks, and starting serious work in January," she explained.
by Alan Jacques