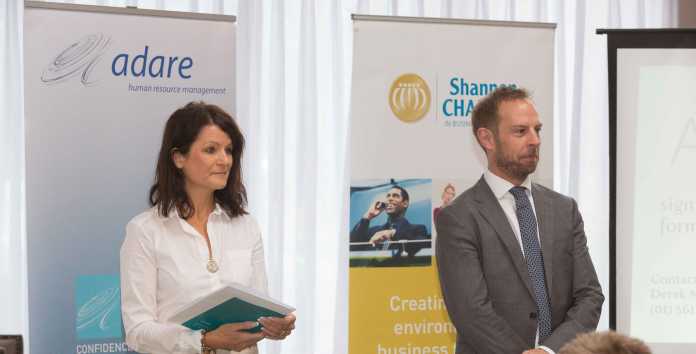 A human resource management service which will be available exclusively to Shannon Chamber members was launched in Shannon this week.
The new service, known as Shannon Chamber HR, is a dedicated human resources and employment law support facility which will provide members with direct access to leading experts in HR, industrial relations and employment law.
It is being offered in partnership with Adare Human Resource Management which opened its Shannon office last year and has been working closely with Shannon Chamber over the past four years.
Shannon Chamber chief executive Helen Downes said that Chamber members now have access to timely, practical and solutions-focused advice.
"Shannon Chamber HR will be of huge benefit to our members and is available at preferential rates. Members will be appointed an experienced HR and employment law consultant as well as access to a dedicated help desk to ensure that they have access to a qualified expert.
Derek McKay managing director of Adare Human Resource Management said they were in the unique position of being able to offer full human resource management services to members of Shannon Chamber.
We have built up considerable local knowledge but with a national reach. As part of Shannon Chamber HR, we will provide advice and guidance for wide ranging day-to-day HR issues, representation at the WRC and Labour Court, onsite HR support and management and ensuring best practice and compliance."
"We also have a hands-on approach and ensure that we provide solutions to HR challenges and not just supply clients with information on legislation. We believe that this is where we can add most value to members through Shannon Chamber HR," he added.
Shannon Chamber HR will also allow members to upskill and take part in HR and Employment Law training throughout the year. Adare Human Resource Management has already compiled a busy calendar of HR-related events for 2018 for Shannon Chamber members.
See more business news here