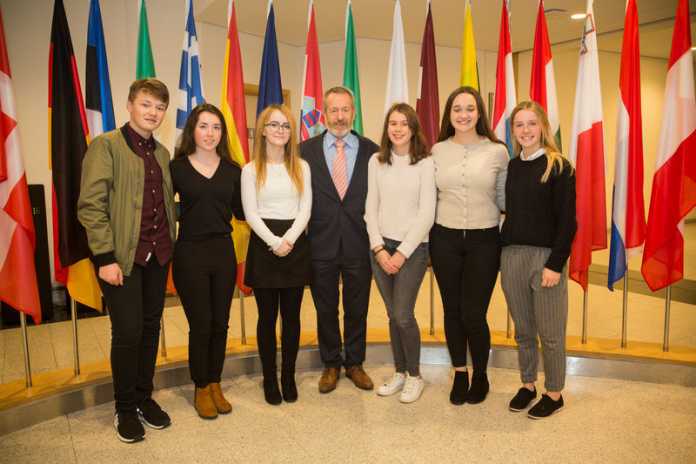 Transition Year students from County Limerick were part of a group of 42 from across Munster who joined Seán Kelly for a visit to the EU institutions in Brussels recently, having won the trip as a prize in an essay competition organised by the MEP.
The local students had successfully penned winning entries under the title "Why the EU is important to me", in a competition that was held to motivate young people to explore their relationship with the EU.
"I was delighted to host this inspiring, intelligent group of teenagers on their visit to the European Parliament, where I gave them a tour of the institution, and discussed Ireland's role in the European Union – EU, the work of the EU institutions and my role as their local MEP.
"Their contributions showed great intelligence and critical thinking, and we exchanged views on topics such as Brexit, EU expansion and candidate countries, the Renewable Energy Directive, and incentives and fines concerning EU legislation. The students also asked a great variety of questions on issues such as net neutrality, differences between Ireland and the rest of the EU in areas such as education, tax policy and Parliamentary systems, gender equality, accessibility for persons with disabilities, and the Lisbon treaty," Mr Kelly said.
As well as their visit to the European Parliament, the students also saw the Future Classroom Lab by European Schoolnet, which is an inspirational learning environment in Brussels. On a visit to the European Commission, they met the EU Commissioner for Agriculture, Phil Hogan, who answered their questions on rural development, climate change, agriculture in developing countries, the effect of Brexit on Ireland's agricultural exports, and meat standards and traceability across the EU.
The teenagers also visited the other Belgian cities of Bruges and Ghent.
"I believe it is crucial to engage with and inform young people on EU issues. This visiting group are full of enthusiasm and keen to enhance their knowledge of Ireland's place in Europe! Comhghairdeas to all who submitted entries to the competition, and thank you for taking an interest in your European Union," MEP Kelly added.
The Limerick students were part of a larger group also representing Tipperary, Cork, Kerry, Wicklow and Clare.
See more educational news here