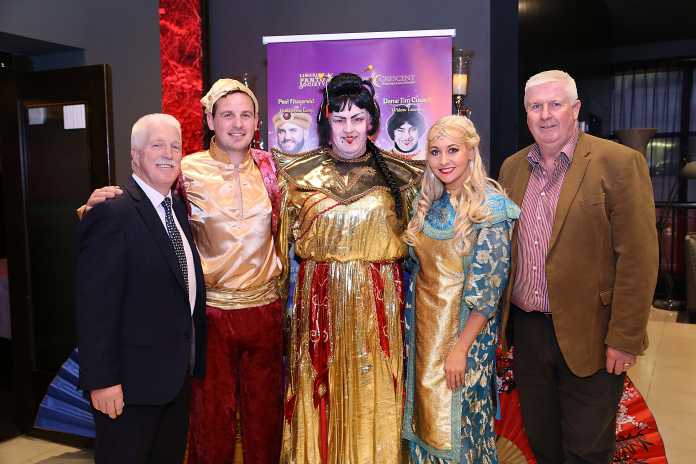 ONE of Limerick Panto Society's (LPS) constant lights is Emma O'Driscoll. Talented and immensely likeable, the Limerick woman is ever the romantic or comedic female lead in annual spectaculars at Lime Tree Theatre.
Cast this year as Princess Sukiyaki in the Asian twist to 'Aladdin' (the relentless, upbeat Jason Ronan), Emma tells Limerick Post she has been working for a generation now in collaboration with the family-oriented Panto Society.
"I have been with them since I was 22 and now I am 35 so that's spanning almost 14 years," the former girl-band star admits cheerfully. "And we're flying it. I was chatting with producer Tony Cusack on Limerick's Live 95fm and we were both in shock at where the years are gone."
'Aladdin' opens on December 28 for 14 shows. Its cast of 60 or so is enhanced by alternate chorus work from children of both Spotlight Stage School and Expressive Arts.
A Limerick woman whose daytime job is her own Gem Stars stage school for children, Emma recalls being fresh from pop group Six for her first panto performance. "I kind of played myself.. it was a small part and a great experience".
Her gift for performing impressed the audience and Society. She was offered the lead role in the following year's 'Cinderella' and "that was the first real challenge as to me it was a huge part and a big responsibility. I started learning how to express myself and be articulate, be audible. And to always have a back-up plan in case I forget the words!"
Emma sings like an angel. She considers the opportunity to perform live so often – and to a terrific five-piece led by the Hinchys – an almighty privilege. "It is exciting. I love music… and Tony is fantastic in involving all of us in the production, he allows us to make suggestions for songs to do. I love the buzz, the curtain going up.
"Panto is a lovely way to spend the Christmas and I would not want it any other way! It's win/ win, really."
Other attractive names floating around with magic carpets and an unbottled Genie include Stuart Mackay as baddie Abanazer, Paul 'Street-Boy' Fitzgerald as said Genie of the Lamp, Damian Shaw as Empress Hitachi; Vinnie Ryan is Emperor Confucius. Thrillingly, there is a Genie of the Bottle also, played by Shawna O'Halloran and Ronan Mitchell. It's a kind of magic?
December 28 to January 7 shows, booking on www.limetreetheatre.ie