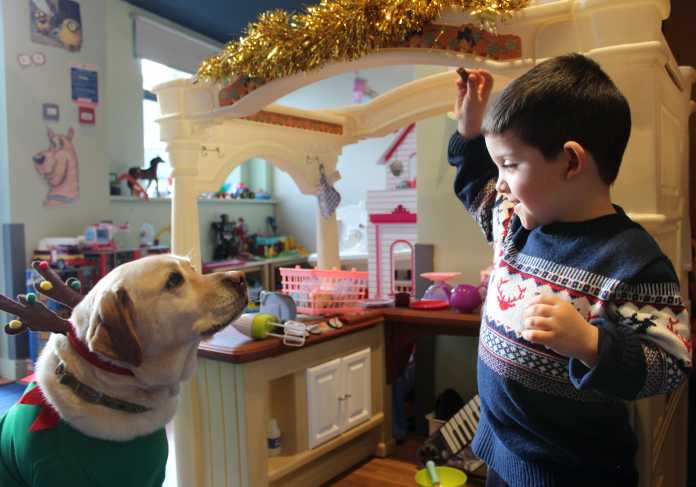 A range of activities at the Children's Ark in University Hospital Limerick will bring the magic of Christmas to children staying in or visiting hospital at this time of year.
A purpose-built paediatric facility, the Children's Ark is the only inpatient facility for sick children in the MidWest. It incorporates 49 beds in the Sunshine and Rainbow wards, a high-dependency unit, a cystic fibrosis unit and the Caterpillar day ward.  There is also a classroom so those well enough can keep up with their school work.
December can be a busy time for the unit with children being treated for respiratory and other winter-related infections and conditions. However staff work with children and families to ensure that as many children as possible are discharged in the run-up to Christmas.   Only children with the most serious illnesses are kept in hospital at Christmas and those well enough are discharged.
Everyone who works in the Ark – including play therapists and teachers; doctors, nurses, healthcare assistants, clerical staff and hygiene attendants  – try to make the Christmas experience as magical as possible for these children. This extends to the catering staff preparing seasonal fare and the electricians in the maintenance department who have put up the Christmas lights.
The UL Hospitals Group extends its thanks to the musicians and entertainers, charitable partners, community/volunteer and other groups and individuals who have visited the Ark to raise spirits at this special time of year as well as those who have supported the Ark all year round.
Some of the activity taking place on the Ark this week includes:
Monday, December 18: Magician Leon Anderson in the play room and on the wards. Irish therapy dog Bonnie with her handler Emma Hogan.
Tuesday, December 19: Stryker Gift Drop for children in hospital over Christmas.
Wednesday, December 20:  Music session with Limerick Music Generation
Thursday, December 21: Liam Mulcahy, Santa and members of the Defence Forces from Sarsfield Barracks visit the Ark courtesy of Sophie's Journey. Irish Chamber Orchestra performing in the Ark School and on the wards
Friday, December: Liam and Ben from Wild Encounters bring their menagerie to the play room.
Christmas Day: Santa to visit children on the wards courtesy of Des Begley and Jim Keogh. Santa and Mrs Claus will bring a special guest.
More health news here