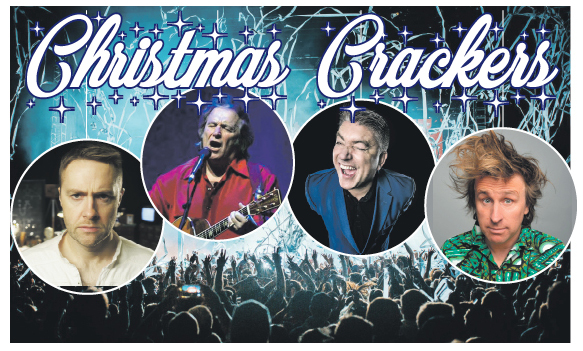 A Christmas gift of concert tickets is like two presents in one, the day a fan gets the gift of tickets and the date of the concert itself – a day to look forward to for the weeks ahead. Limerick Post selects concerts in the city from acts that have a long held reputation for putting on an outstanding performance.
Keith Barry
MIND Hacker, Magician, Escapologist Keith Barry is back in 2018 with his new show Magic Madhouse.
While his recent tours concentrated on hypnosis, this new show is a return to Keith's magician act with an added death defying finale of escapology to keep the punters on the edge of their seats.
The stunt that Keith has developed was inspired by the movie SAW 5 where a victim in the film is imprisoned with a glass box over his head, getting filled with water.
The protagonist in the Hollywood movie does not survive the ordeal but Keith has devised a similar challenge with the added drama that he will also be locked into a metal straight jacket.
Keith assures us here at Limerick Post that he does not have a death wish, but he certainly has the kahunas to bring an escape act back into his show for the first time in eight years, ever since an escape act in the Olympia went wrong and left Keith unconscious. Proof, if it was ever needed, of the real and potential dangers and the physical fitness required when escapology is introduced at the end of a show.
Keith Barry's Magic Madhouse plays at University Concert Hall on Thursday February 22.
Milton Jones
COMEDIAN Milton Jones is one of a kind and very much out there. In his brand new show he'll be putting his foot down and lifting the lid on the pedal bin of lies of the media.
Milton, probably best known for his sure-fire one liners on BBC's 'Mock the Week', will be talking about his life so far – the ups, the downs and why buying his own see-saw was the best decision he ever made.
Milton Jones performs at Lime Tree Theatre April 19.
Sign up for the weekly Limerick Post newsletter
Pat Shortt
DESPITE winning several awards and accolades for his acting career, Pat Shortt loves to get out on the road and tour, getting back into the parish halls and theatres for his stand up comedy shows.
"I love the live work and try to write a new live show every two years to give myself a kick in the ass so I don't get complacent about my comedy," the Castleconnell based actor told Limerick Post
The show, 'How's Tings' coming to UCH in February, is inspired by the everyday characters that Pat encounters all over the country and beyond. Pat finds the absurd and funny in these larger than life chancers and charletons and turns them on his unsuspecting audience.
Pat Shortt comedy show 'How's Tings' plays at University Concert Hall on Saturday February 17.
BELL X1
BELLX1 are celebrating their 20th year in 2018.
The band have confirmed they are bringing the party to King John's Castle on Sunday May 6, 2018.
The band will tour a special Greatest Hits set that will encompass two decades of their hits.
This year the trio sold out a five-night residency in Dublin's Vicar Street in record time, headlined a sold out show at Iveagh Gardens Dublin and followed by a full European tour opening for Tori Amos.
Tickets available from www.dolans.ie and www.ticketmaster.ie
Don McLean
DON McLean has amassed over 40 gold and platinum records world-wide. Forever associated with his classic hits .American Pie' and 'Vincent (Starry, Starry Night)', Don McLean sold out two performances in 2015 at University Concert Hall.
His song 'American Pie' was inspired by the death of Buddy Holly and is also regarded as a song about America itself from an era of USA reeling after the fallout from Vietnam and Watergate.
Don McLean plays University Concert Hall on Friday June 1. www.dolans.ie for tickets.
HUDSON TAYLOR
BROTHERS Harry and Alfie Hudson-Taylor busked as kids in their native Dublin. Sons of a musician and a dancer, their debut album 'Singing For Strangers' (a reference to the band's earlier busking) peaked at number three in Ireland.
They are signed to Rubyworks Records and managed by Caroline Downey (who also manages fellow label-mate Hozier).
Hudson-Taylor play Live at the Big Top, Limerick Milk Market on April 1. Tickets from www.dolans.ie