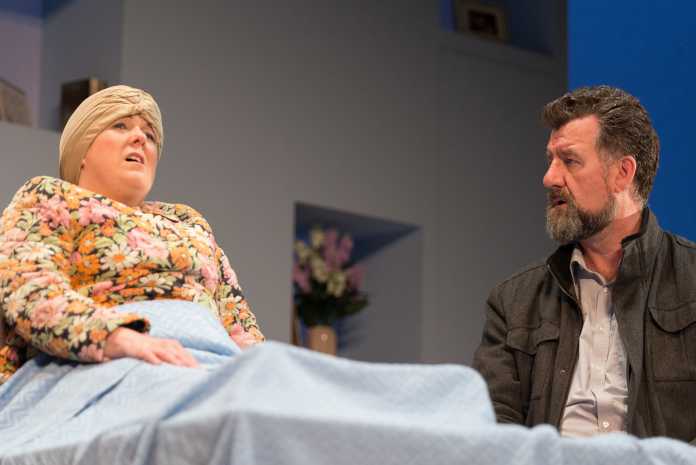 IN THE throes of panto prep for 'Cinderella', Lime Tree Theatre has published its 2018 programme of shows and events for its venues, Lime Tree itself and on O'Connell Street, Belltable. To be clear, this article previews the Mary Immaculate College based theatre only, with the season opening in January for both sites.
Irish professional theatre comes out tops for Spring with Druid, Decadent, Gare St Lazare, Breda Cashe and Big Guerilla bringing shows alongside Shakespeare in the Glen with 'The Field' and Cyclone Rep. Their thing is Shakespeare condensed for schools.
Comedy (Foil, Arms and Hogg; Milton Jones) and musical theatre with MIDAS' 'Seussical' and Myles Breen's 'The Creative Show' will likewise warm the coming months.
Over to Gill Fenton of Lime Tree: "Decadent Theatre and director Andrew Flynn return to us February 10 with 'Someone Who'll Watch Over Me'. We've not had them for a year and a half, when they brought 'The Weir'.
"Andrew has produced, directed and brought this play on the road before and this production is revisited. It is going on the NASC circuit, the network of venues that has come together to platform professional theatre throughout the country".
Limerick theatre goers, hark back to Island Theatre Company's 'Someone Who'll Watch Over Me' at Belltable with Paul Meade. It is Frank McGuinness' harrowing, sidewise look at the account by Lebanon hostage survivor Brian Keenan of years incarceration.
"Joanna Trollope has an alternative Valentine's night to offer as we're not really into that," laughs. "This is an 'in conversation' piece with Liz Nolan of RTE Lyric fm confirmed as host." An incisive novelist on adult affairs, Trollope will plug her latest book, 'An Unsuitable Match' on February 14.
Limerick men Joe Clarke and Paul Boland of CWBdot.ie productions will bring on 'The Piano Series' with Paddy Dennehy and Jack O'Rourke, singers and musicians, on February 17.
The big noise is Druid returning with Beckett's 'Waiting for Godot' for a satisfactory four nights, March 7-10. "I have had the pleasure of seeing it at The Abbey. The set is stunning, it is an absolutely beautiful play as you would expect. Marty Rea and Aaron Monaghan are the two big stars and hear me, this production is fantastic."
Does anyone recall Seamus O'Rourke at Belltable 18 months ago with a one-man, self-made show? It was a tender lookback on life, on death. He's in town again, this time on April 6 with 'From Under the Bed'.
"People know Seamus from 'Fair City'. In this, he is directed by Bairbre Ní Chaoimh and acting with Arthur Riordan, the man who wrote 'The Train' with our own Bill Whelan. They play two bachelors living together, figuring out what is going to happen about certain things after death". One dilemma "is deciding on what 'auld shite' should be left under the bed when they become the dear departed."
Gare St Lazare invokes Beckett on April 21 with a work celebrating the use of music in his plays, poetry, novels. "The absence of linear narrative fires us to where the words and music take us".
Taking us into early May, there will be a three-night run of a family story fostered by Breda Cashe, 'Minding Frankie'. Maeve Binchy is the author and Peter Sheridan will direct Steve Blount and Clare Barrett of 'Angela's Ashes  – The Musical'. 
More craic on www.limetreetheatre.ie where you can book for hot tickets.