Coláiste Chiaráin are delighted to announce their forthcoming production of Hairspray The Musical.
Performances are
Friday January 26th & Saturday January 27th
in the LimeTree Theatre. Tickets are available from the Lime Tree Theatre (061) 953400 or Coláiste Chiárain (061) 39770. Tickets will cost twelve euro.
Over the years Coláiste Chiaráin has been renowned for its remarkable performances of musical theatre. Some past productions are; "A Night at the Musicals", "Little Shop of Horrors", "We Will Rock U", "Oliver!", "All Shook Up" and many more.
Hairspray The Musical will Welcome you to the 60's where Tracy Turnblad, a fun girl with big hair and an even bigger heart, is on a mission to follow her dreams. You Can't Stop The Beat as she sets out to dance her way onto national TV with The Nicest Kids In Town. Tracy's audition makes her a local star and soon she is using her newfound fame to fight for equality, bagging local heartthrob Link Larkin along the way.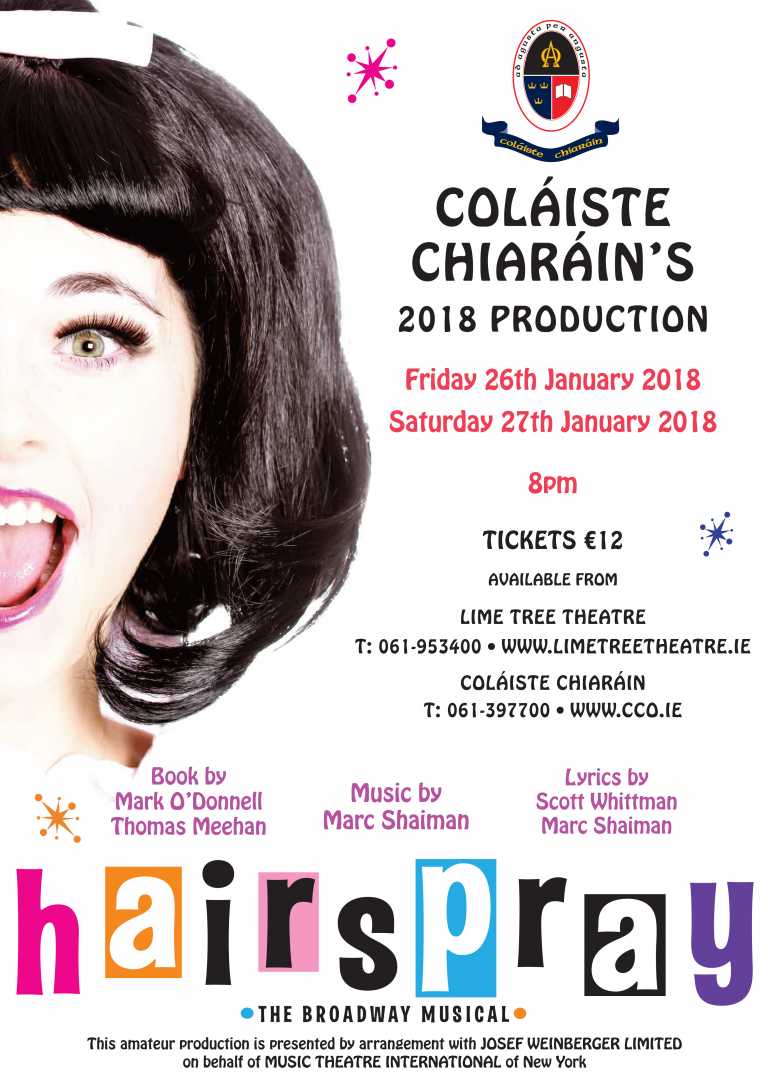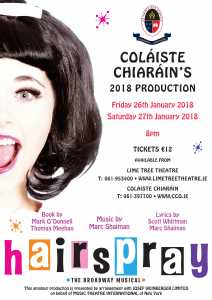 Hairspray is the irresistible feel-good show that is guaranteed to have you dancing the night away. So don't miss out!! This production will be one to remember as it will once again showcase the immense musical talent which Coláiste Chiárain has to offer. We are thrilled to welcome back Des Henn (Director) Noel Lennon (Musical Director) and Barbara Meany (Choreographer) to the production team along with an incredible cast and crew, all of which make for an unmissable performance of Hairspray The Musical. The producer, Mr. Fergal Moore along with choral director, Ms. Mary-Kate Hanley are determined to provide an amazing show for the public and this will undoubtedly be achieved.
More education news
here.