I'm coming back to you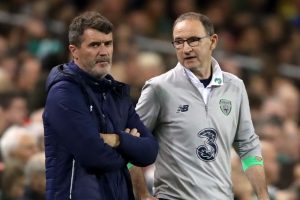 So, after putting his right leg in and his right leg out, doing the Hokey Cokey and shaking it all about, Martin O'Neill has decided that he'd quite like to remain Ireland manager after all. A protracted, public flirtation with Stoke City has come to nought, and with no other offers on the table he has come running back to us, claiming that he was never going to leave, that the mere thought of losing us was almost too much to bear.
Sign up for the weekly Limerick Post newsletter
And here we sit, stoical and calm, our loving arms outstretched, ready to welcome himself and Keano back into the fold. Well, no, not really. Technically he may not have cheated on us, he may not have followed his suitor to the bedroom, but by God the intention was there. O'Neill sized Stoke up, gazed upon her ample thighs, her supple hind-quarters, and thought to himself, "I wouldn't mind a bit of that." That he ultimately thought better of it, realised that our thighs are just as ample, our hind-quarters even more supple, is neither here nor there.
This is a deal-breaker. A breach of trust. If Martin O'Neill were fully committed to the Ireland job, fully committed to leading us into the next European Championships, he wouldn't have even considered the solicitations of the Premier League club. That he had to um and ah his way round this decision, toying with his options until the last minute, suggests that were the same to happen again, were another top-flight team to come sniffing around, he'd be lifting his skirts again, ignoring the needs of a nation while he sated his curiosity.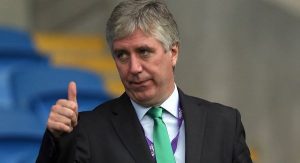 At the time of writing, O'Neill has a verbal agreement with the FAI's Chief Executive, John Delaney, to stay on for another two years. And it was this which led to him rejecting Stoke's overtures, a belief that he would be going back on his word if he jumped ship now. That's all very honourable, but this verbal agreement has been in place since before the Denmark games, why hasn't it become a written agreement? Why all the stalling? The money is good, I'm sure. It's an extension to an existing contract so it can't be that complicated. And yet, no commitment, no declaration of intent, just a lengthy period of silence.
If and when O'Neill signs the new deal, and announces his plans for the next two years, it's not going to be a case of business as usual, at least not for the fans, maybe not even for the players. We've seen this before. In the wake of what had been a relatively successful World Cup in 2002, Mick McCarthy suddenly found the fans turning against him, a couple of bad results bringing Saipan back to the surface. From a position of strength, McCarthy found himself hounded out, neither popular enough nor powerful enough to withstand the outcry over Keane's departure.
Perhaps O'Neill will benefit from the lack of competitive games this year. With nothing to play for until qualifying for the Euros (the UEFA Nations League notwithstanding) starts next March, he might just be able to lull us all into forgetting this ever happened, so that by the time we get back into meaningful action the country is united once more, his dalliance with Stoke of no consequence whatsoever. I wouldn't bet on it though. Despite qualifying for the Euros in 2016, and going a long way towards erasing the misery of the Trappatoni era, Martin O'Neill has been on shaky ground with Ireland fans for a while now.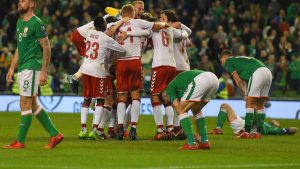 Even before the Denmark game, even before our limitations were ruthlessly exposed by a team fairly limited in its own right, there had been a growing sense that this was as far as O'Neill could take us, that for all his plus points, his ability to organise a side, instil them with self-belief, and occasionally, have them play something akin to association football, he had outstayed his welcome. The feeling was that, even if we had qualified for this summer's finals, it would be time to say goodbye shortly thereafter.
And now, with no World Cup Finals to look forward to, and nothing but a long, barren year of glorified friendlies to fill the time, one can't help but wonder how O'Neill keeps a job which, up until Sunday, he seemed all too ready to leave.