LIMERICK is represented by two acts on TV3's Ireland's Got Talent this Saturday February 10 from 7.30pm.
Chris (28) and Maria (30) are a rapper and singer from Limerick. The Tesco co-workers entered a local talent search here in the city and are now ready to bring their act to the nation. Will our own Beyonce and Jay-Z impress the judges?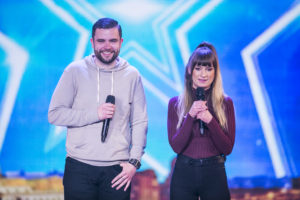 Limerick artist/musician/beatboxer Benoit Vibes promises to get, "weird and wonderful" on Ireland's Got Talent this weekend. Benoit has entered the talent contest as a mime artist. He states in the pre-show publicity that he lives with "Me, mime and I … but we don't really talk to each other much".
How will judges Denise Van Outen, Jason Byrne, Michelle Visage and Louis Walsh react to the silent treatment? Some say it best when they say nothing at all!