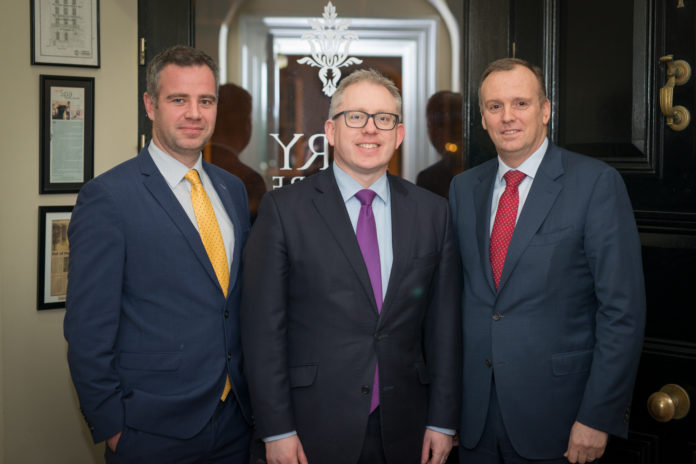 Limerick Chamber's Corporate Partners met with one of the country's leading government officials, Secretary General Graham Doyle last week to emphasise the need for key infrastructural interventions for Limerick and the wider Mid-West region.
Developing key infrastructure to advance the Atlantic corridor can deliver huge national economic benefits, Limerick Chamber President Ken Johnson stated in a meeting with Secretary General of the Department of Transport, Tourism and Sport.
The Secretary General was provided with a clear understanding of the infrastructure projects that key businesses in the region want Government to prioritise. These include delivery of the M20 along the original route envisaged (via Mallow), completion of the Northern Distributor Road, as well as prioritising investment in Shannon Airport and Shannon Foynes Port, including related transport and particularly road infrastructure. The need for faster rail links from Limerick to Dublin was also noted by the group to the senior civil servant.
During the meeting, Chamber President Ken Johnson stressed the need for Government recognition in the National Planning Framework, of how the Atlantic corridor can provide economic development counterbalance to Dublin and help to alleviate pressures on the capital.
The President highlighted how the Framework to 2040 needs to recognise that developing our regional cities, more ambitious targets on their growth prospects and strengthening interlinks and co-operation between them, must be the primary focus to ensure more balanced regional growth.
Said Mr Johnson, "We are at a very critical juncture for the nation's economy. The National Planning Framework will be a blueprint for how Ireland is going to be developed over the next 20 years and more, but it has to be a bold plan with a vision for a new Ireland that is developed in large part by maximising the capacity of the regions to grow."
"To deliver this we need strategic investment in infrastructure and this was the key message we made to Mr Doyle. We emphasised to the Secretary General the desire and capacity of this region, as part of an Atlantic Corridor, to play a part in rebalancing the national economy."
The Chamber President outlined how, from a population projection and infrastructure planning perspective, combining Cork-Limerick-Galway together makes sense, where the combined region can deliver stronger economic growth greater than the sum of these three individual regions
He also detailed how enhancing intercity links will increase the collective capacity to market the combined city regions of Cork-Limerick-Galway from an economic development perspective, which in turn will act as a catalyst for greater collaboration among key stakeholders in these city regions.
More about business here.