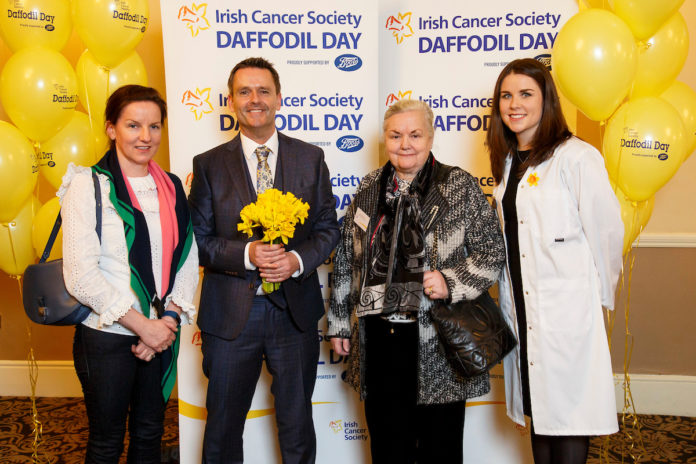 Miriam O'Callaghan has urged people of Limerick to dig deep this Daffodil Day to help the record number of people being diagnosed with cancer.
The RTE broadcaster, who lost a sister to cancer, was speaking at the launch of the Irish Cancer Society's 2018 Daffodil Day, which will take place on 23rd March.
There are currently 165,000 people living with cancer in Ireland and over 12 months 1364 people in Limerick were diagnosed with the disease.
Miriam said: "Tragically a person dies from cancer every hour in Ireland, but for so many people there's also great hope. More people are surviving cancer now than ever before thanks to lifesaving research. Daffodil Day, proudly supported by Boots Ireland, is a day where we can all help fight back against cancer. Like so many Irish people, I have lost loved ones to cancer. I lost my precious sister Anne who was just 33 when she died. On March 23rd people of Limerick can help fund lifesaving research and crucial services to ensure cancer patients and their families are properly supported. Get involved now at www.cancer.ie"
Speaking at the launch, Chief Executive of the Irish Cancer Society Averil Power appealed to the public to support cancer patients in the community.
Averil said: "As the number of Irish people with cancer increases, record numbers are turning to the Irish Cancer Society for information, care and support. Only two per cent of our funding comes from the State. We are therefore hugely dependent on the generosity of the public to fund vital services used locally.
"Last year, the number of people using our Volunteer Driver Service to travel to chemotherapy appointments increased by fifteen per cent. A total of 238 journeys were covered for patients in Limerick. Our Night Nursing service provided 409 nights of care to terminally-ill patients locally in their own homes. None of this would be possible without strong support for Daffodil Day from individuals and communities across Ireland."
Bernadette Lavery, MD, Boots Ireland said: "Colleagues in Limerick are excited to join with Daffodil Day volunteers to fight back against cancer this March 23rd. We see the effect cancer has on the lives of patients and families in the communities we serve, and we are determined to make a difference. We have worked closely with the Irish Cancer Society for five years and are delighted to extend our support to their flagship fundraising day this year as official main sponsor."
More about health here.